The permanent and large cumulative updates under Windows 10 can cause administrators a great headache. Especially with narrowband internet connections , Windows 10 clients can fully utilize the Internet connections, sensible work is hardly possible for the other clients in the network.
So it makes sense to make settings on the Windows 10 client so that the Windows 10 client does not automatically download Windows updates . There are many suggestions for this, today we want to present you with a fairly simple but reliable solution.
Change network connections to clocked
Microsoft has already built in mechanisms in Windows 10 that the Windows 10 updates are not downloaded via metered connections , i.e. UMTS, LTE etc. This would use the available transmission limits too much, especially abroad, which would result in considerable costs. So it makes sense to simply set Windows 10 so that the WLAN and Ethernet connections are equal to the clocked connections. This would prevent Windows 10 updates from downloading automatically.
Registry adjustments
This requires registry changes. First you have to switch to the following branch:
HKEY_LOCAL_MACHINE SOFTWARE Microsoft Windows NT CurrentVersion NetworkList DefaultMediaCost
There you will find the 5 possible connection types such as 3G, 4G, Default, Ethernet and WiFi, as you can see below.

By default, the values ​​for "Ethernet" and "WiFi" are set to "1", "3G" and "4G" to "2" , ie "clocked". Now all you really have to do is change the values ​​for Ethernet and Wifi to "2" . Unfortunately, this does not work so easily, because after the change you will receive the following message.

The exact message is:
Ethernet cannot be edited: error writing the content of the value.
In order to be able to change these registry values , you have to take ownership of the " DefaultMediaCost " key and give the registered user " full access " to these values. Only then can you adjust the values ​​for "Ethernet" and "Wifi".
Define settings via Windows
In the new Windows 10 version from the Creators Update , you can also make this network setting via the Windows Settings app. The appropriate setting can be found under " Network and Internet ", then click on " Ethernet ", then on the " Connected symbol " and then the following setting option appears.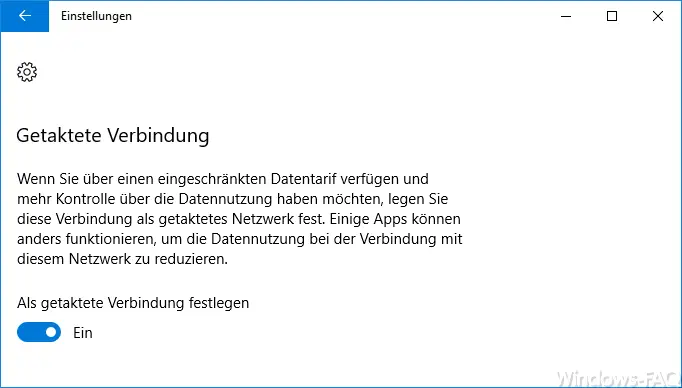 Clocked connection
If you have a limited data plan and want more control over data usage, set this connection as a switched network. Some apps may work differently to reduce data usage when connecting to this network.
If you now define this network connection as a " clocked network ", Windows updates will no longer be downloaded.
Microsoft also points out this setting on the Windows Update page and explains it as follows:

Updates are automatically downloaded and installed, except for timed connections (which may incur fees). In this case, only the updates that are required to keep Windows running smoothly will be downloaded automatically. 
If you are interested in further information about Windows updates, take a look at the following articles.
– Fix Windows 10 update problems with a script
– Plan installation time & restart time of Windows 10 updates and set the usage time
– SD card is no longer recognized – Windows 10 update
– Prevent installation of faulty or defective Windows 10 updates. (wushowhide.diagcab)