Due to our own problems, we would like to use the blue screen in this article
to report. We have often written about blue screens , or simply BSOD (BlueScreen of Death) , but since we are permanently receiving this blue screen on a system today, we wanted to tell you about various possible solutions.
Here is the original photographed error message of the BSOD "Internal Power Error" .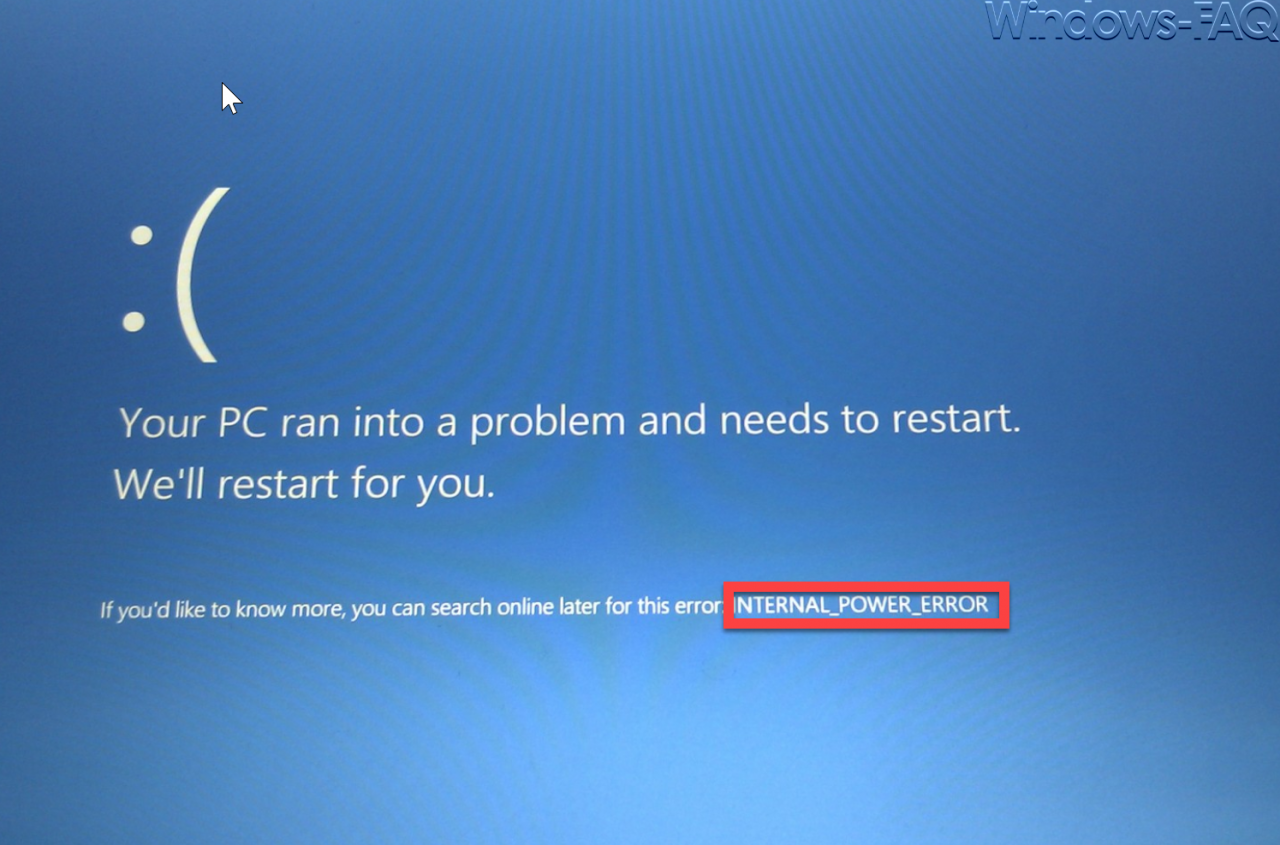 The " internal power error " manifests itself in such a way that the PC always starts automatically, sometimes even in an endless loop . We have researched on the Internet and apparently it is usually due to the graphics card or the graphics card drivers .
AMD graphics cards cause the internal power error
AMD graphics cards in particular are often to blame for this type of blue screen. The first thing you should do is check whether you have the latest graphics card driver. Of course, this is independent of graphics card manufacturers. With AMD graphics cards you should uninstall the  Amd Catalyst and the installed graphics card driver via the device manager and then download and install the latest one from the manufacturer.
Unfortunately, this is sometimes not so easy because the PC already shows the blue screen "Internet Power Error" during the boot process . In this case, you have to start the PC in safe mode and uninstall the graphics card driver. How you can restart your Windows PC in safe mode, we have explained to you for the different operating systems like Windows 10 , Windows 7 or XP in different articles.
Update all device drivers
If the BSOD Internet Power Error persists or has already installed the latest graphics card driver , you should try to download and install the latest device driver directly from the manufacturer of all hardware components of your PC.
Deactivate autostart software
Another option is to deactivate the software that starts automatically during the Windows boot process . System -related software such as firewall systems or antivirus programs can also trigger the " Interal Power Error ". If deactivation is not possible, you should consider uninstalling it. If it turns out that it was not due to the installed software, you can reinstall the uninstalled software at any time.
Hardware defect
Of course, a hardware defect can also trigger the BlueScreen Internet Power Error . You should consider whether you have replaced hardware components in the recent past or whether you have connected new hardware. If so, you should uninstall this hardware and check if the Internet Power error continues to occur.
In the past we have reported several BlueScreen error codes several times . Here is a selection of the most common BSODs.
– Critical Process Died – BlueScreen (BSOD) eliminate error code
– 0x00000D1 BlueScreen error code
– BlueScreen KERNEL DATA INPAGE ERROR
– blue screen error code STOP: 0x000000F4
– DPC Watchdog Violation – Windows blue screen
– BlueScreen under Windows 10
– In case of system errors the blue screen display for Vista and Windows 7 enable
–
blue screen screensaver for Vista – 0x000000139 stop code – KERNEL_SECURITY_CHECK_FAILURE Windows error
– 0xC000035 error circular kernel context logger