When backing up  a physical Windows server with Veritas (Symantec) Backup Exec 2015 (Capacity Edition), it is necessary that the backup administrator also creates the appropriate SDR disk . SDR means  Simplified Disaster Recovery and is a special process for the reconstruction of secured Windows servers . We received the following message from Backup Exec 2015 after backing up a physical server.

SDR disk was not created
Message: A backup job for server "… .." that includes all critical system components has been completed. The computer is now fully secured.
However, you have not yet created the SDR disk . You will need this disk in the event of a disaster recovery on the server. If the server is running Windows Server 2008 or later, click the Backup Exec button, choose Configuration and Settings, and then click Local Server Properties to create the SDR disk .
Backup Exec stores the disaster recovery information file in the default disaster recovery path on the Backup Exec server and in another location of your choice, if you specify it. Symantec  (Veritas) recommends that you specify a different path for the disaster recovery file. You should make an additional copy of the file and put it in a safe place. Without the disaster recovery information file , a Backup Exec server cannot be restored from a tape drive or autoloader using simplified disaster recovery . Having multiple disaster recovery information files ensures that you have at least one copy in case disaster recovery is required. To view the default path, click the Backup Exec button and choose Configuration and Settings> Backup Exec Settings> Simplified Disaster Recovery .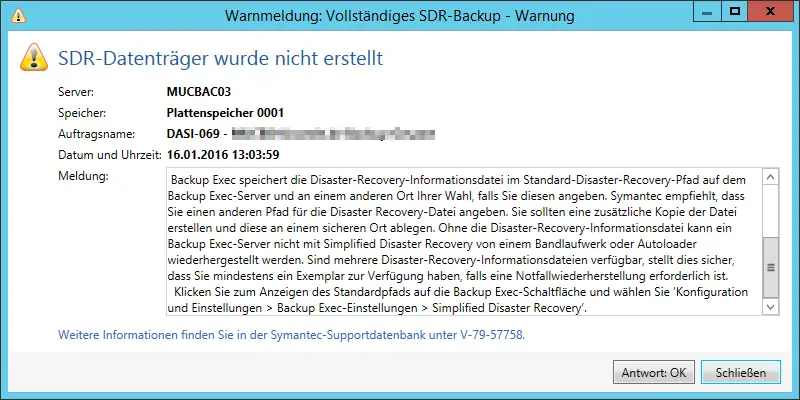 However, in order to be able to create the SDR data carrier , some requirements must be met on the backup server . First, the Microsoft Windows Assessment and Deployment Kit (ADK) must be installed on the backup server. This can be done relatively easily directly from the Backup Exec . You can find out exactly how this works in the second part, which you can find under "Backup Exec Preparations for SDR data carriers – Part 2".
You can find many more Backup-Exec posts here:
– Backup Exec 16 from Veritas available
– FP5 for Backup Exec 15 released (revision 1180)
– Hyper-V .AVHD problem with Backup Exec 15 FP3
– Copy backup job at Symantec (Veritas) Copy Backup Exec
– Symantec (Veritas) Backup Exec Error V -79-57344-33932
– Symantec (Veritas) Backup Exec error message (FIXEDB2DDevice, memory could not be deleted)
– Deduplication Option Error with Symantec Backup Exec 2014 Upgrade
– Backup Exec 2012 Snaphot Error 0xe0008526 (V-79-57344-34086)
– Symantec Backup Exec error message 0xe0008488 – Access denied
– The BackupExec Management Service could not be started – .NET Framework update error