In Windows 10, it is set by default so that you do not receive a query when you delete a file in Windows Explorer . If it is a local file, it will be moved to the Windows Recycle Bin immediately and without asking . We have already reported about the Windows recycle bin several times, including how you can display the recycle bin directly in Windows Explorer .
Nevertheless, it would be desirable if you received a confirmation prompt before the actual deletion process and the file or folder would only be moved to the trash afterwards . You can activate this deletion query relatively easily if you carry out the following steps. Below you can see the original image of the security question
Are you sure you want to move this file to the Trash?
If you want this security question to appear after pressing the "DEL" or "Delete" button , you have to activate the following local group policy. To do this, you must first start the " gpedit.msc " program using the Windows key + "R" and then switch to the following GPO key .
User Configuration / Administrative Templates / Windows Components / Explorer
Below you can see the available GPOs , we have marked the decisive one in red.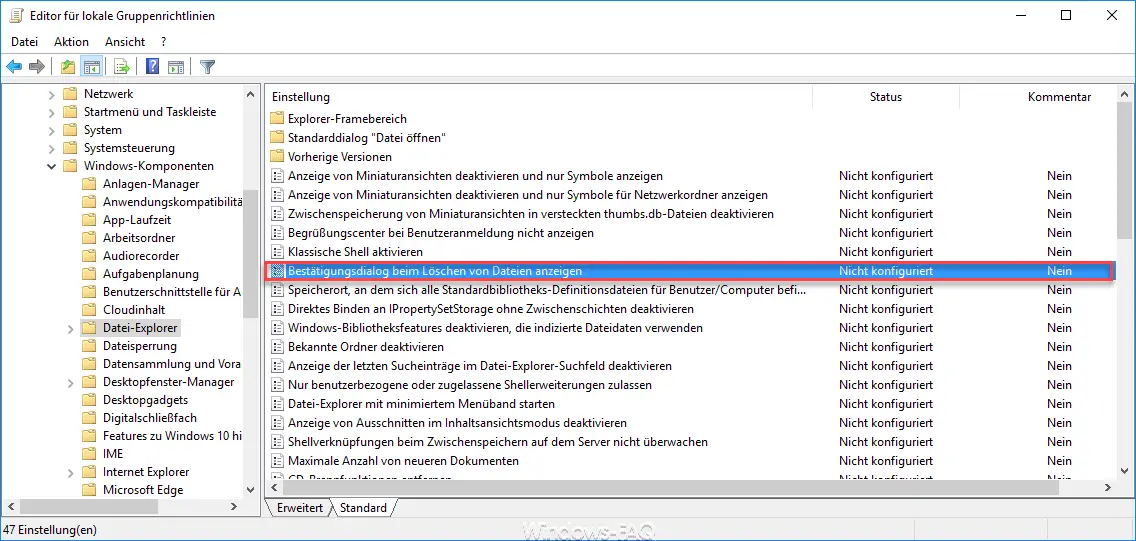 You then have to " activate " the following group guidelines .
Show confirmation dialog when deleting files
As soon as the GPO is activated , it becomes active; a restart is not necessary. From now on, the desired security question will appear before the deletion process " Are you sure you want to move this file to the Recycle Bin? ". Microsoft explains this group policy in the following words.
Allows confirmation to be displayed in File Explorer as soon as a file is deleted or moved to the trash .
If you activate this setting , a confirmation is displayed as soon as the user deletes a file or moves it to the recycle bin.
If you deactivate or do not configure this setting , the standard behavior is used and no confirmation dialog is displayed.
If you are looking for more tips and tricks around Windows Explorer , then you should take a closer look at this information.
– Windows 10 Recycle Bin does not empty
– Remove Windows 10 Recycle Bin (recycle.bin) from the desktop
– Thumbs.DB – Disable image thumbnail caching in Windows Explorer – Show
file size information in Windows Explorer folder tips
– Open files and folders in Windows Explorer with just one click
– Show complete folder name in the header of Windows Explorer
– Windows Explorer – Recently used files and frequently used folders