Users and administrators who have problems with Microsoft Outlook 2013, 2016, 2019 or Outlook from the Office 365 family can activate logging . Through this logging, all important information and log files are written and can then be evaluated for troubleshooting.
We show you in this short Outlook tutorial how you can activate this Outlook logging and where you can find the Outlook log files and log files .
Activate Outlook logging
In order to activate Outlook logging, you must first open Outlook
file
and then on
Options
click. The tab then appears in the "Outlook Options" window that appears
Extended
to select. We have shown you this window here below.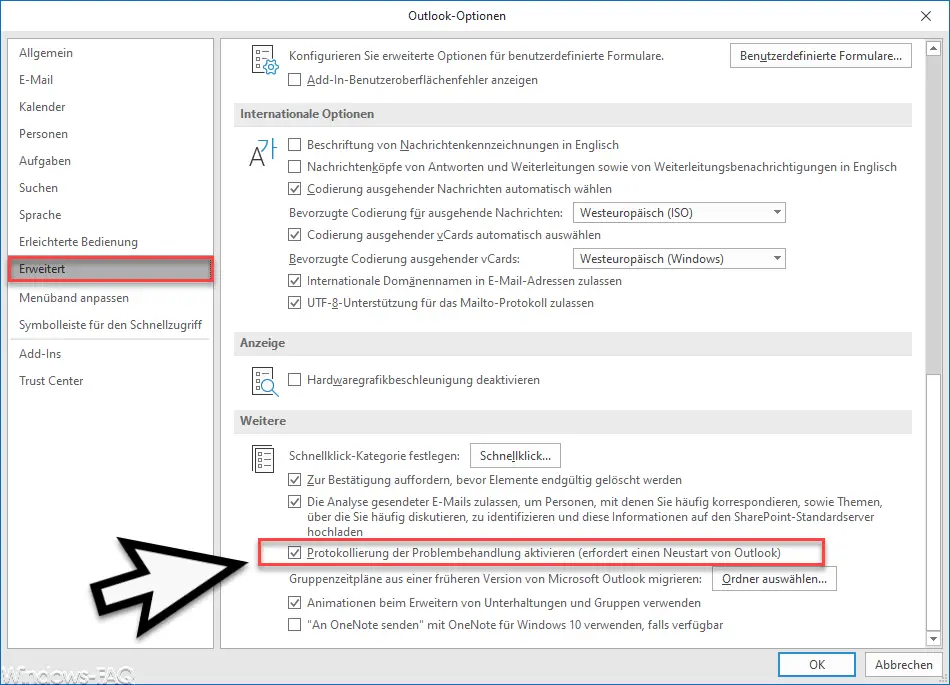 The crucial option
Enable troubleshooting logging (requires restart of Outlook)
can be found relatively far below in the advanced options. It is important that you restart your Outlook after setting the Outlook log option , because only then will Outlook logging become active.
This is also shown in Windows 10 by the following window.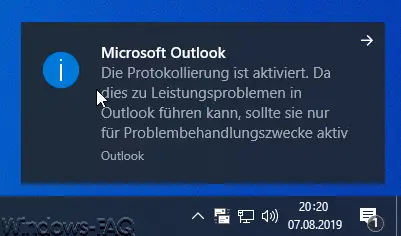 The exact message is:
Microsoft Outlook
Logging is activated. Because this can cause performance issues in Outlook, it should only be enabled for troubleshooting purposes.
If you click on this message, the following message will appear.
Logging is activated. Logging is a diagnostic tool for support professionals to identify problems in email systems. Logging can slow performance in Outlook. Do you want to disable logging?
As long as Outlook logging is switched on and activated, all necessary information is collected in the following folders.
% localappdata% Temp Outlook Logging
% localappdata% Temp Outlook log
This then looks like this in Windows Explorer.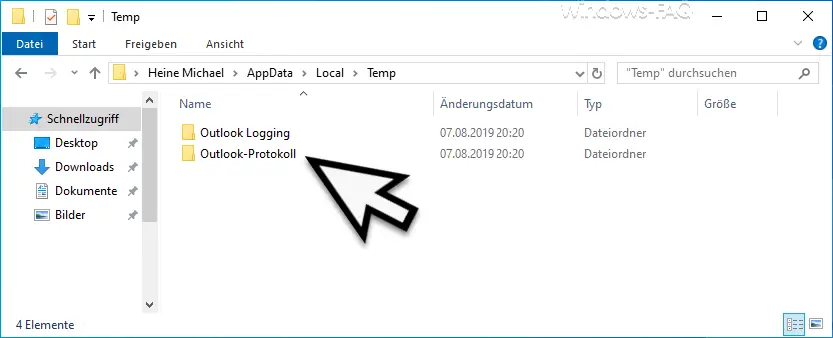 In these two folders, which are automatically created by the activated Outlook logging , you will find all the necessary information for Outlook error handling .
If you are interested in further advice for Microsoft Outlook , we recommend the following posts here in our Windows blog.
– Automatically close original message when replying in Outlook
– Display Outlook, Word, Excel and PowerPoint in dark design (Dark Mode)
– Tidy up and create space in Outlook – Mailbox cleanup
– Converting Outlook OST files
– Delaying the sending of emails in Outlook
– Useful keyboard shortcuts for Outlook
– retrieve sent email in Microsoft Outlook
– a client operation has failed – Microsoft Outlook
– reduce or compress Outlook PST file –
activate spell check in Outlook
– backup the Outlook PST file
– create Outlook OST file in a PST file convert with OST2
– mailbox export to PST files at Exchange Server
– Exchange 2007 mailboxes export to PST file
– SCANPST – tool to repair Outlook .PST files
– Outlook error messages 0x800CCC90 and 0x800CCC92
– Outlook error message "The Operation failed. An object cannot be found. "