Cortana , an innovation in Windows 10, can recognize spoken words and sentences and automatically use the Microsoft search engine "Bing" . But Cortana can do even more if you can also use it to search for contacts or create routes.
Microsoft has firmly integrated Cortana into the Windows 10 operating system and you can usually do it via the oral command
Hey Cortana
Activate on your Windows 10 PC, notebook or tablet. Of course, this also means that your Windows PC has an activated microphone . Windows 10 therefore waits all the time in the background until you pronounce the command " Hey Cortana ".
You can activate or deactivate this voice control function "Hey Cortana" in Windows 10. You can find the right Cortana settings in the Windows settings, which is the easiest and quickest with the key combination

can call. Then you switch to the area in the display of the possible options
Cortana ( Cortana language , permissions, notifications)
There you will find the right settings right away. At the very top
Microphone settings
in which you can also have the microphone checked for function.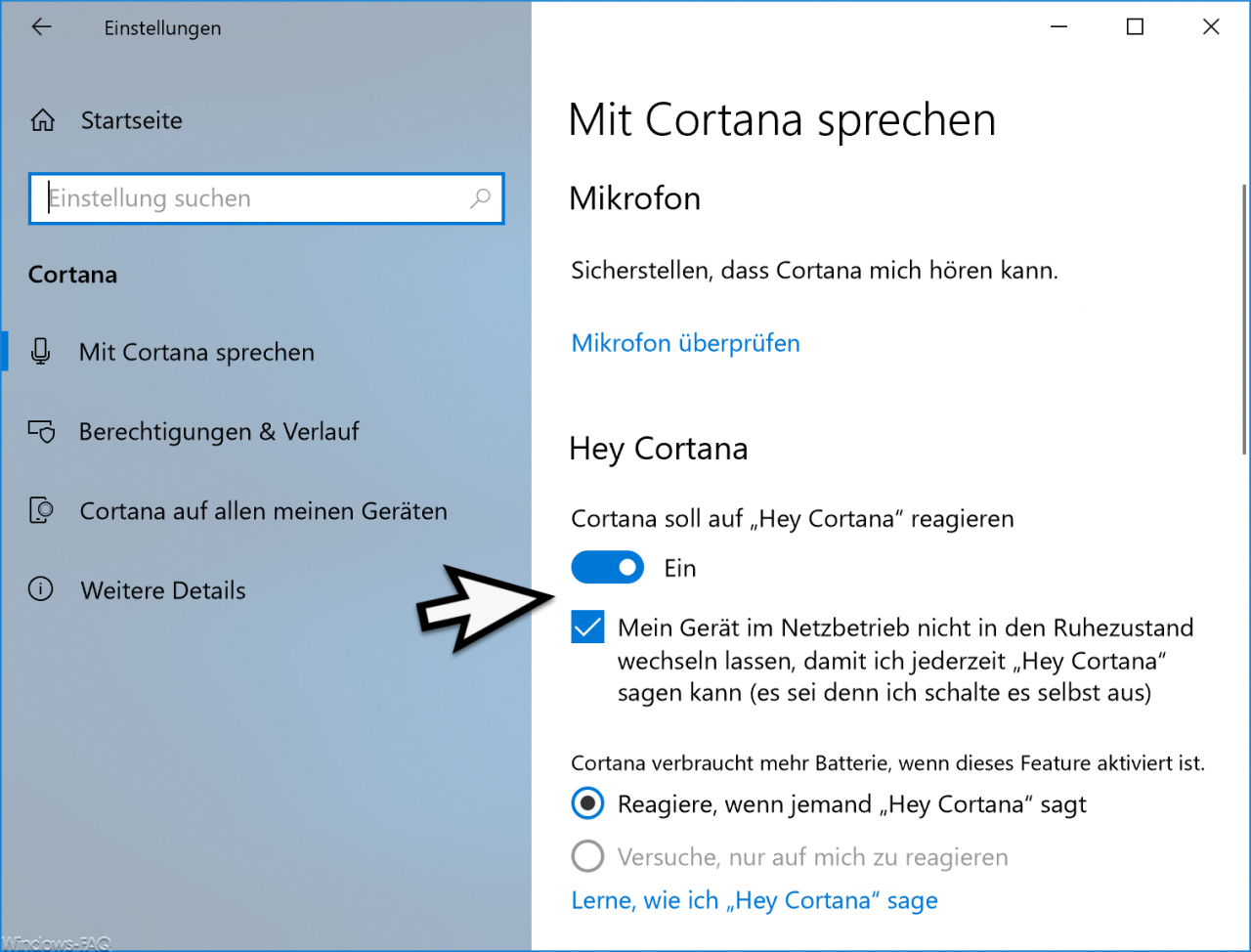 The area appears immediately below
Hey Cortana
With the slide switch " Cortana should react to Hey Cortana " you can globally activate or deactivate Cortana.
There is also the following hibernation option for Cortana.
Do not let my device switch to idle mode when it is connected to the mains so that I can say "Hey Cortana" at any time (unless I switch it off myself).
If you activate this option, Windows will again point out that Cortana will consume more battery in this case .
Finally, you can specify whether Cortana should only respond to your voice or to any user of this computer. In order for Windows 10 to recognize your voice correctly, you have to teach Windows 10 how to pronounce " Hey Cortana ". This then works via the link
Learn how to say "Hey Cortana"
With these options you can now set Cortana as it is best for you.
You can also find other articles about Cortana in these articles.
– Replace Cortana search text "Ask me something" with your own text – Switch
off Windows 10 Bing search results (Cortana)
– Replace or hide the Windows 10 Cortana search field with an icon – Switch off
Cortana using the registry entry
– Switch off Cortana in Windows 10
– Deactivate Cortana in Windows 10