Every now and then we come across Windows Update error code 84B30002 . In the picture below you can see the Error 84B30002 on a Windows Server 2012 R2, on which 3 current Windows updates should be installed.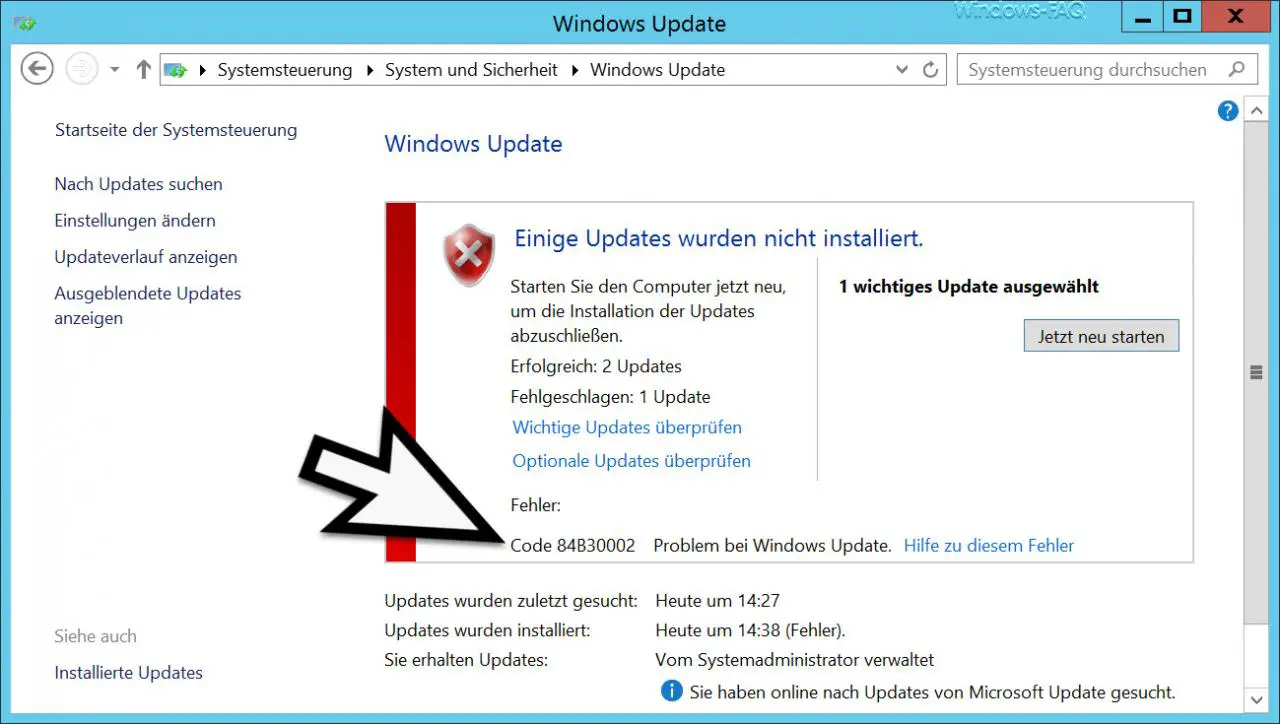 As you can see, 2 updates were installed successfully and one update brought the error 84B30002 . Unfortunately, the information that Microsoft provides about error code 84B30002 is very inadequate and not very meaningful. Also under the link " Help on this error " there is no useful information to eliminate the update error 84B30002.
When looking for the cause of the update error 84B30002 we came across the alleged cause, it is a problem with the service pack update for an installed Microsoft SQL Server.
Many forum entries on the Internet report that the update error 84B30002 mostly occurs in connection with the installation of a SQL service pack . For us it was apparently the problematic update
Microsoft SQL Server 2014 Service Pack 3 (SP3)

To avoid the update error code 84B30002 , we simply downloaded the update directly from the Microsoft website and then carried out a manual installation of the Microsoft SQL Service Pack . This manual update could then be installed easily and without an error message. After a new Windows restart, the Windows Update function no longer produced the error 84B30002 and all subsequent updates could be installed again without any problems.
Unfortunately, why these SQL updates always cause problems cannot be said. However, it seems to be a relatively known bug, because the problems also occur in the previous and subsequent SQL server service packs.
If you are interested in further solutions for Windows Update problems , we recommend the following articles here on Windows-FAQ.de.
– Windows Update error code 0x800c0002
– Windows Update error code 0x80070157
– 0x8024000E error code for Windows Update – XML ​​Data Error
– Windows Update error code 0x8007007e
– Windows error code 0x80070570
– Windows 10 upgrade error code 0x80190001
– 0x800704B3 error code for Windows Update
– Windows Update error code 0x8024a20617
– 0x80070017 error Windows Update
– The Windows Store cache may be corrupted
– Windows Update error code 0x80072F76 – 0x20017 when running the Media Creation Tool
– 0x8024a223 error code with Windows Update
– error code 0xc1900130 with Windows Update