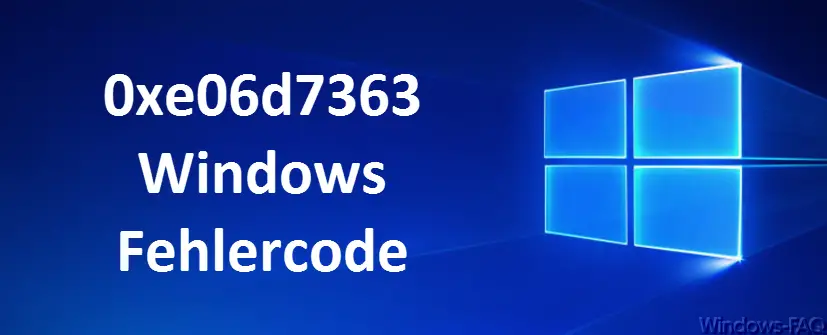 The Windows error code 0xe06d7363 is relatively common and occurs in various places in all Windows versions. The error code 0xe06d7363 occurs very often in connection with Microsoft Outlook, Microsoft Office and also the Microsoft SQL Server. One of the most common error messages is then:
Unfortunately, there was a problem installing the product key. If this problem persists, you should try repairing your Office product (system error 0xe06d7363)
Often, the error code is also used with the terms " Out of memory ", " unable to load DLL …". "Or" HRESULT 0xe06d7363 "is displayed.
We would now like to offer you some possible solutions to eliminate the error code 0xe06d7363 .
Office troubleshooting
If the problem arises when activating Office , it usually indicates an incorrect activation code. In this case you should definitely check the Office activation code again and enter it again. If this does not improve, you will not be able to avoid an Office deinstallation and reinstallation. An office repair will bring no improvement, our experience shows us.
If the error code continues to appear during activation, you must contact Microsoft. They can then help you activate the Office installation.
SQL server error
If the error message occurs in connection with a Microsoft SQL server , the lack of main memory is often the cause of the error message 0xe06d7363 . You should definitely end programs that use a lot of RAM or restart your PC. If the problem occurs again after restarting, there will probably be another problem. It is often helpful to check the installed main memory for errors. We described exactly how this works in our article " RAM Diagnostics with MDSCHED (Windows Command) ".
Windows system files
We would recommend you to carry out a disk cleanup (cleanmgr) in any case , to have the Windows system files checked with an " SFC / Scannow " and possibly corrected and to update your Windows device drivers. Further measures would be to briefly deactivate any programs running in the background, such as malware, spyware or antivirus programs, in order to exclude them as the cause. If you do not have your Windows system up to date with the current patch status, you should also install all outstanding Windows updates.
In the past we have reported several other  Windows error codes . Here is an excerpt from the latest articles.
– 0x80070020 error code for Windows Update
– Windows Update error code 0x80073701
– 0x80010108 error code for Windows 10 Update
– 0x8024a105 Windows Update error code
– 0x80070422 error code for Windows Update
– 0x80240442 error code Windows Update
– error 0x800704c7 for Windows Update
– 0x8e5e03fa Windows 10 Update error code
– Windows Update error code 0x80240437
– 0x8000ffff Windows error code
– Windows Update error code 0x80240fff
– 0xc1900201 error code during Windows 10 Anniversary Update