Many Windows users who want to activate their Windows 10 receive the activation error message 0xc004e016 . Below we have shown you an image of the original error message from activation code 0xc004e016 . In this case, however, it is an English version of Windows 10.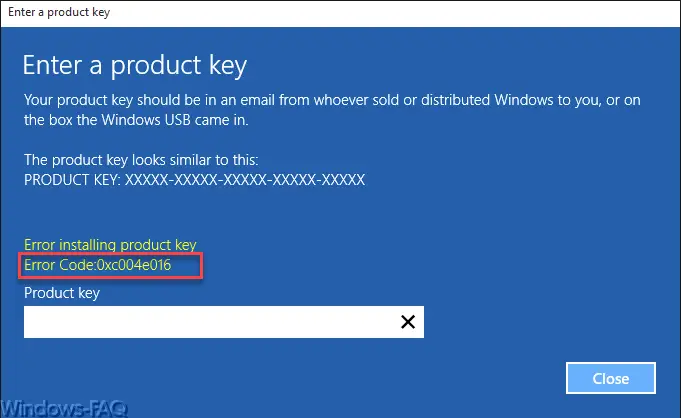 Cause of error code 0xc004e016
There are two possible causes for error code 0xc004e016 . The most common reason is that the Windows user tries to use his Windows Key for a Windows 10 Clean installation without having previously upgraded his Windows pre-installation. To upgrade to Windows 10, you can use the Media Creation Tool . Only when the upgrade has been successfully installed does the activation of a newly installed Windows 10 work even after a complete new installation (clean installation).
Even though Microsoft has officially switched off the possibility of the free Windows 10 upgrade , there are still various ways of still upgrading to Windows 10 from older versions of Windows.
Windows activation server overloaded
We would recommend that you do not take any measures too quickly if you receive error code 0xc004e016 when activating Windows 10. It may well be that Microsoft is currently having problems accessing the  Microsoft activation server and that this is why this error code is displayed.
Please wait a few hours or until the next day and then try again to carry out the Windows 10 activation . If it works now, it was actually due to the failed access to the Microsoft activation server.
Windows activation can lead to various problems and error messages  . In this article we have gone into the various problem cases in more detail.
– Code 0xC004C008 Windows activation error – Check Windows 10
activation
– 0x8004FE30 Windows activation error
– 0xc004f050 Windows 10 error code – Error during activation