Today we would like to report the Windows update error 0X8024000E , which can occur under certain circumstances with the integrated Windows Update function. We have shown you the error in the English form in the following illustration.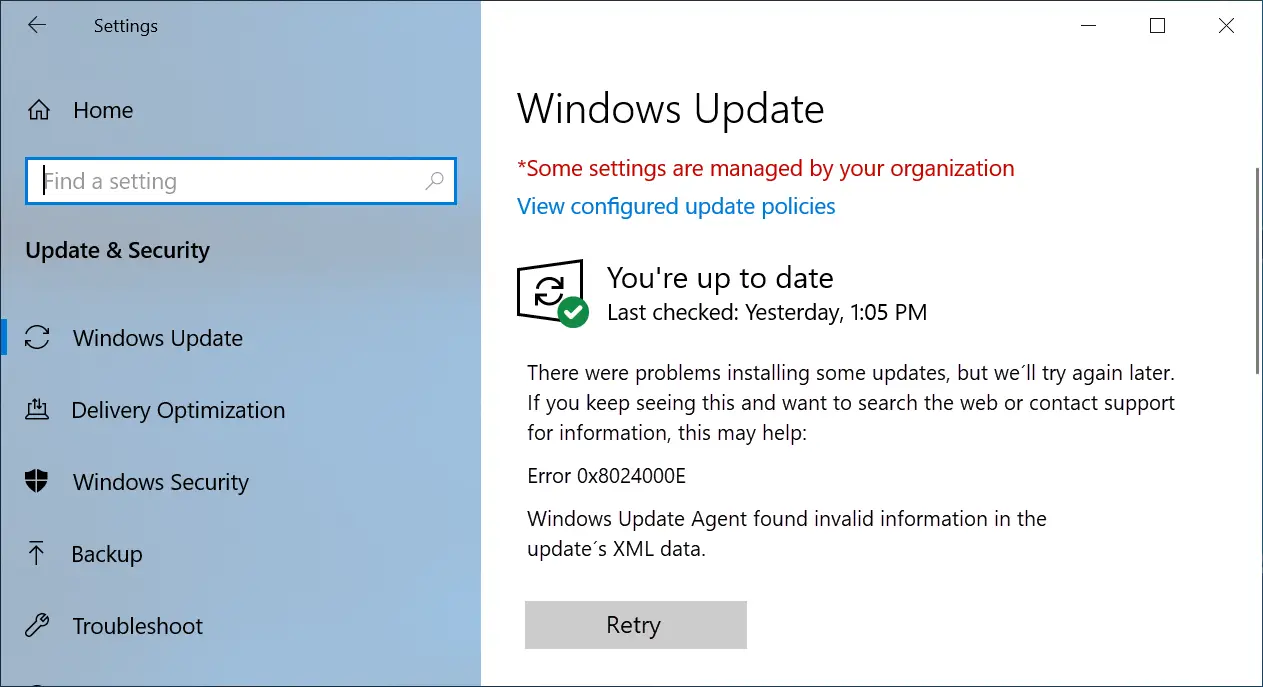 The exact error message is:
There were problems installing some updates, but we'll try again later. If you keep seeing this and want to search the web or contact support for information, this may help:
Error 0x8024000E
Windows Update Agent found invalid information in the update's XML data.
At Microsoft, this error code is also known as " WU_E_XML_INVALID " and can have various causes.
Clean up Windows Update Store
Downloading the Windows updates can lead to inconsistencies that lead to the Windows Update Agent finding incorrect data in the Windows Update folders. To eliminate the error code 0x8024000E you should first of all the contents of the folder
C: Windows SoftwareDistribution
delete or simply rename the folder. Since this folder is permanently accessible, you must first stop these Windows services. The easiest way to do this is via the Windows service management "services.msc" . The following services must be stopped.
 

Background Intelligent Transfer Service (BITS)
Cryptographic Services (Cryptsvc)
Windows Update Service (Wuauserv)
After these services have all ended, you can now rename the folder " C: Windows SoftwareDistribution " or delete all contents of this folder. This folder can be reset without any problems, since Windows creates the folder from scratch every time the Windows update process is carried out and the newly downloaded objects are placed in the folder again.
Then the stopped Windows services must be started again. Then you should check whether the update error 0x8024000E continues to occur.
Check Windows system files
If cleaning the update store has not brought any improvement, you can still try to check the integrity of your Windows system files and have errors corrected if necessary. We explained in detail how this works in our article " Checking and repairing Windows system files ".
After you have done this and a final Windows system restart , you should check whether the update error 0x8024000E  still occurs.
Finally, we have listed further help from other Windows Update error codes here.
– Windows Update error code 0x8007007e
– Windows error code 0x80070570
– Windows 10 upgrade error code 0x80190001
– 0x800704B3 error code during Windows update
– Windows update error code 0x8024a20617
– 0x80070017 error code during Windows update
– The Windows store cache may be corrupted
– Windows update error code 0x80072F76 – 0x20017 when running of the Media Creation Tool
– 0x8024a223 error code for Windows Update
– error code 0xc1900130 for Windows Update
– 0x80072AF9 Windows Update error code
– Windows Update error code 0x80200013
– Windows error code 0x80073715
– 0x80070652 error code for Windows Update