The Windows Update error code 0x80080005 occurs very frequently and is unfortunately very difficult to diagnose. There are a few ways that the error 0x80080005 can occur during the Windows update .
We have shown you below a corresponding update message from error 0x80080005 .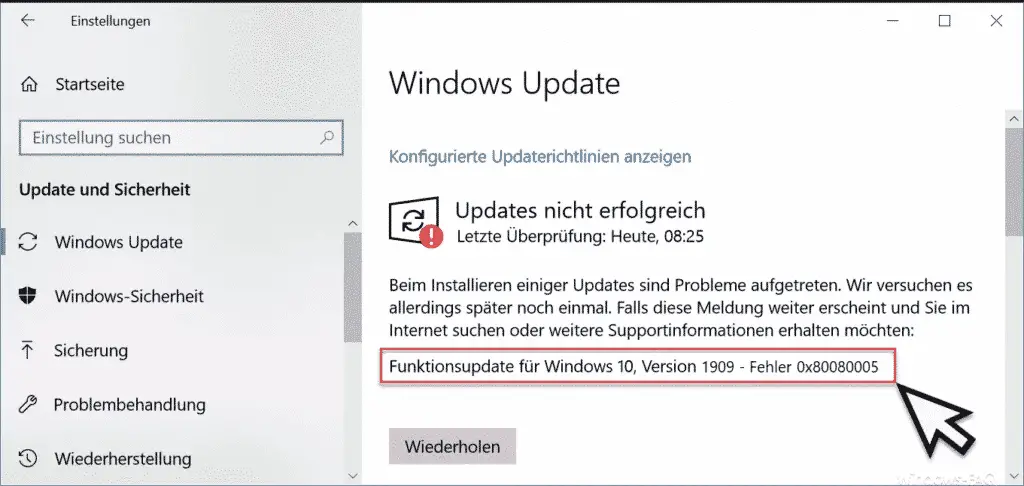 To eliminate the update error 0x80080005, you should try the following 3 options.
Clear Windows Update Cache
First, as with many Windows Update error codes, you should clear the Windows Update Cache . This cache is a special directory called "SoftwareDistribution" in the Windows root directory. It contains numerous subfolders in which numerous update information and Windows update files are saved .
The contents of this directory can be deleted without any problems, since every time the Windows Update function is started, Windows will completely rebuild this directory structure and download all the missing update information from the Internet. This can result in the error code  0x80080005 being eliminated, since all update components are reloaded into the update cache .
Here below the four commands that you please in a command prompt running that you started as administrator you. You can gradually copy and paste the lines into the command prompt using CTRL + C and CTRL-V.
net stop wuauserv & net stop cryptSvc & net stop bits & net stop msiserver
Ren C: Windows SoftwareDistribution SoftwareDistribution.XXX
Ren C: Windows System32 catroot2 Catroot2.XXX
net start wuauserv & net start cryptSvc & net start bits & net start msiserver
The whole process looks like this.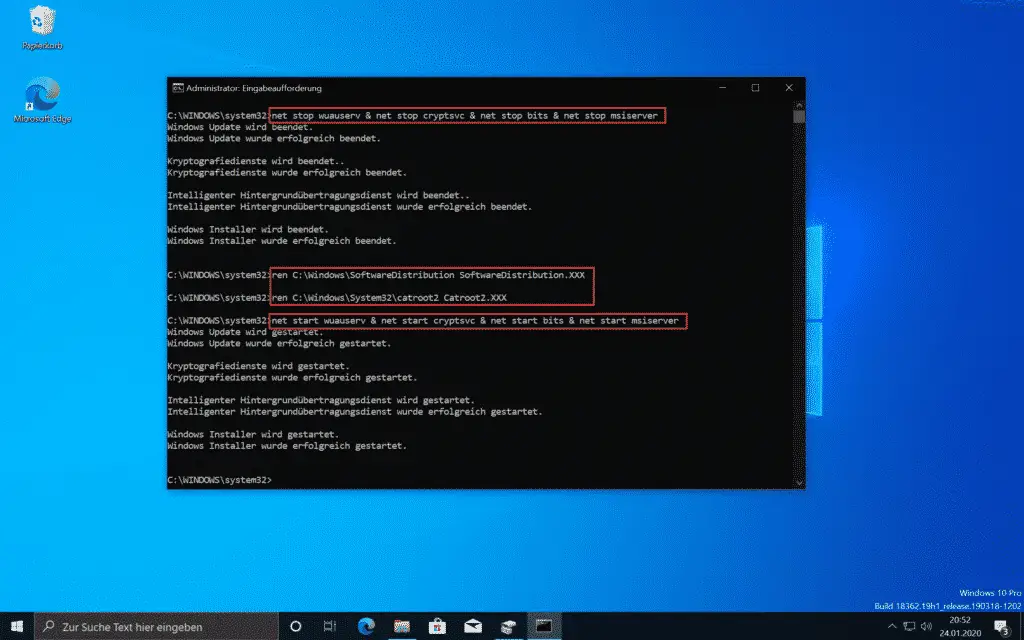 Then please start the Windows Update installation again and if the error message 0x80080005 no longer occurs.
Windows repair to troubleshoot 0x80080005
If the error  0x80080005 still occurs during the update, you should consider a Windows repair using the following 3 commands.
Dism / Online / Cleanup-Image / ScanHealth
Dism / Online / Cleanup-Image / CheckHealth
Dism / Online / Cleanup-Image / RestoreHealth
We have also illustrated this process below.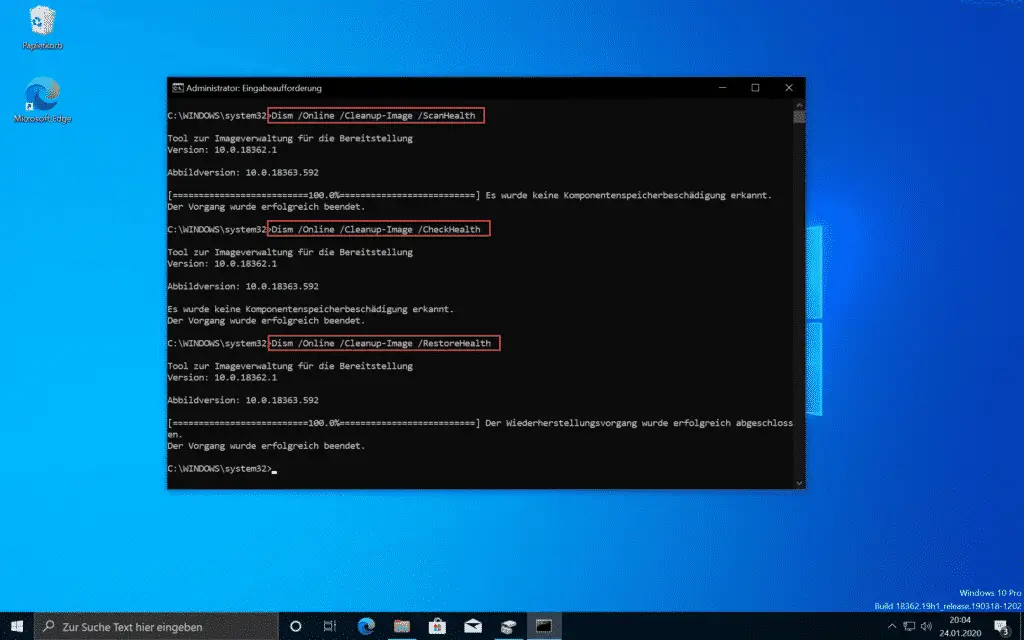 We then recommend restarting Windows and then testing again to see whether error code 0x80080005 continues to occur.
Repair Windows system files with SFC
If both variants have so far been unsuccessful with regard to error code 0x80080005 , there is still the option of examining the Windows system files for errors and having them eliminated automatically.
The corresponding command for the system search is SFC, the entire command including the parameter is then
SFC / SCANNOW
This system file checker now looks for corrupt or missing Windows system files and repairs them immediately. The process can take a few minutes. Then you should restart your Windows once and finally check whether the update error code 0x80080005 still occurs.
Finally, you will find more information about other Windows Update error codes .
– 0x8024000b error code for Windows Update
– error code 0x800f0982 for Windows Update
– 0x800f0988 error code for Windows 10 Update and 1909 upgrade
– Windows Update error code 0x8024001f
– error code 0x80246017 for Windows Update
– error code 0x80246008 for Windows Update
– Windows Update error code 0x80070BC9
– error code 0x80072EFE when installing .Net Framework 3.5
– Windows Update error code 8007000E
– Error code 0x80246001 with Windows Update
– Windows Update error code 0x800c0002
– Windows Update error code 0x80070157
– 0x8024000E Error code with Windows Update – XML Data Error
– Windows Update error code 0x8007007e
– Windows error code 0x80070570
– Windows 10 upgrade error code 0x80190001
– 0x800704B3 error code during Windows update