The error code 0x80070652   in the Windows update is relatively widespread and means " ERROR_INSTALL_ALREADY_RUNNING " according to Microsoft . This means that another, current installation process is apparently running during the Windows Update process and a collision occurs. Windows then issues error code 0x80070652   , which you can see here in the example below.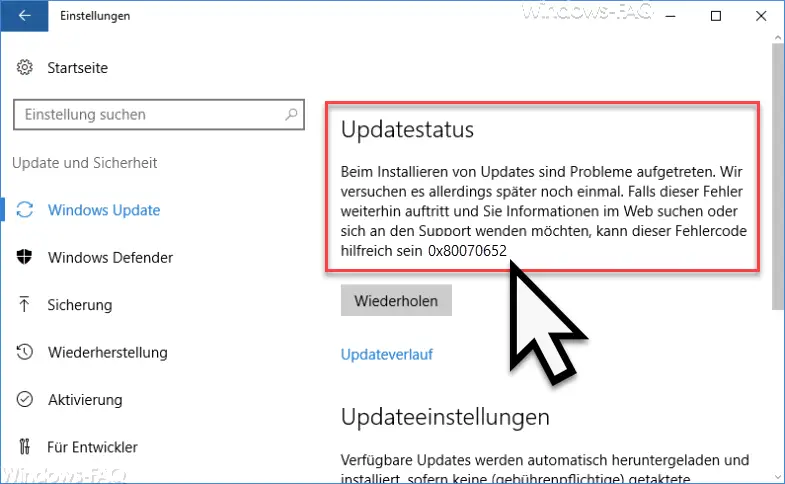 You should try the following options to eliminate error 0x80070652 .
Carry out a clean reboot
To make sure that no other installation process is running during the Windows Update, you should restart your Windows system with " Clean Reboot ". To do this, you open the utility
msconfig
and then changes to the " Services " tab , as you can see here in the system configuration .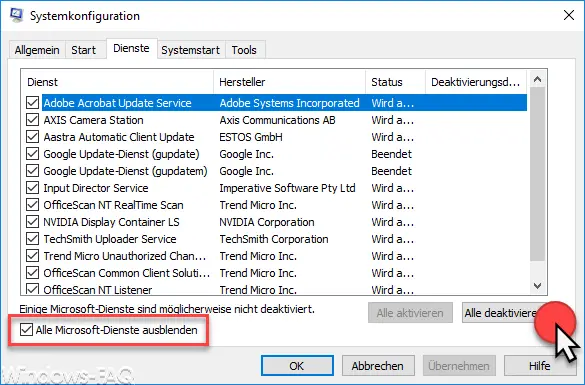 Here you have to confirm the option "Hide all Microsoft services" and "deactivate" . Then MSCONFIG is to be ended with OK and the system restarted. After the clean reboot, you should try whether the Windows update process continues to result in error message 0x80070652.
Manual download of the update package
You should investigate which update package causes the error 0x80070652 . You can determine this quite easily if you click on the point " Show history of installed updates " in the Windows Update window . From version 1803, however, this option is only called " Show update history ".
Then you should download the special Windows update package directly from the Microsoft website " Windows Update Catalog " and install it manually.
Deactivate virus scanner
If all of this does not help, you should temporarily deactivate your virus scanner or switch off Windows tuning programs. Such programs, which permanently monitor the system and intervene in processes, can also be responsible for the Windows update  error 0x80070652.
You can also find further information on other Windows update errors here:
– Windows Update error code 0x80240022
– 0x1900107 Windows Update error code
– 0x80070bc2 error code in Windows Update
– Windows Update error code 0x80244007
– 0x800f081e error code in Windows Updates
– 0xc000000f Windows Boot Error code
– 0x80245002 error code in Windows Update
– 0x8024200D Windows Update Error Code
– Windows Update error code 0xC1900101 – 0x30018
– 0xC1900101 – 0x20017 Windows 10 could not be installed
– 0x80D05001 error code during Windows 10 update
– 0x80070035 error code "The network path was not found"