The Windows update error 0x800705b4 can occur under various conditions. There is no general solution for the update error code 0x800705b4 , but we want to show you different possible solutions.
We received the exact error message on a Windows 10 system , as you can see below.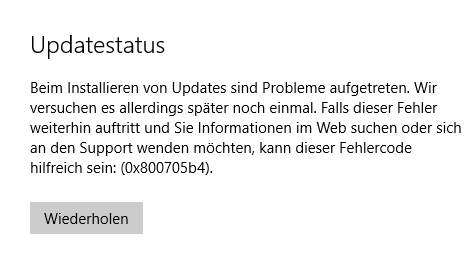 The mere description of the error does not reveal anything that would indicate the causal problem.
Run Windows Update again
The first thing you should do is restart your Windows PC and try the update function again. If this does not fix the error, you should delete the SoftwareDistribution folder .
Delete Windows Update folder
We have often described this here on our blog, how to delete the SoftwareDistribution folder . Here is the summary again. Please start a DOS window with administrator rights and execute the following commands.
net stop bits
net stop wuauserv
net stop cryptsvc
rename% windir% SoftwareDistribution SoftwareDistribution.sav
net start cryptsvc
net start wuauserv
net start bits
As a result of this process, the entire content of the SoftwareDistribution folder in the Windows directory was renamed and Windows is forced to download all missing updates again completely from the WSUS or from the Microsoft Update servers and to start the installation again.
Check virus scanner
Other virus scanners are often also to blame for the problem 0x800705b4 . You should definitely deactivate your virus scanner before the update so that it cannot negatively influence the Windows update process . If the updates still cannot be installed, you can rule out that your virus scanner is to blame for the error code 0x800705b4 .
Possibly. it is also advisable to deactivate the Windows Defender service , this can also be the cause of the problems.
Internet connection busy
We encountered error  0x800705b4 because the Internet line was completely 100% busy due to other activities. This caused a timing problem and Windows 10 could not reach the update servers in the specified time. This then ended the process with error number 0x800705b4 .
When we repeated the update at a later point in time when the internet line was almost underutilized, the problem did not reappear and the update was installed properly.
Windows Update Troubleshooter
In another post about error 0x80240017 , we discussed Windows Update troubleshooting . If your problems still persist despite the previous solutions, you should definitely use this Windows help .
Below we have put together more articles about Windows Update bugs .
– Reset network in Windows 10
– Prevent installation of faulty or defective Windows 10 updates. (wushowhide.diagcab)
– 0xc1900200 error code when upgrading Windows
– 0x80240017 Windows Update error code
– KB3206632 update problems with download & disk
usage – 0x80070490 Windows update error code
– 0x80070003 error code with Windows update
– 0x8007045A Windows update error