The Windows error code 0x8000ffff is one of the best known error codes and unfortunately also an error that has to do with various different Windows areas. Unfortunately, it is not an error number that can be clearly assigned to, for example, the Windows update, program installations or hardware problems. We want to tell you the different points of contact and show possible solutions.
Windows system recovery problem
The error code  0x8000ffff often occurs especially with Windows System Restore , i.e. when you try to use System Restore to go back to a saved Windows System Restore point. In this case, the exact error message is
E_UNEXPTECTED (0x8000ffff)
In this case, there is a fairly good solution, which Microsoft explained in detail in KB 2732500 "Error" E_UNEXPECTED 0x8000ffff "when trying to restore a system using the system restore options in Windows 7" ".
Program installation error 0x8000ffff
The error message 0x8000ffff can also occur when installing new software or updating an already installed software .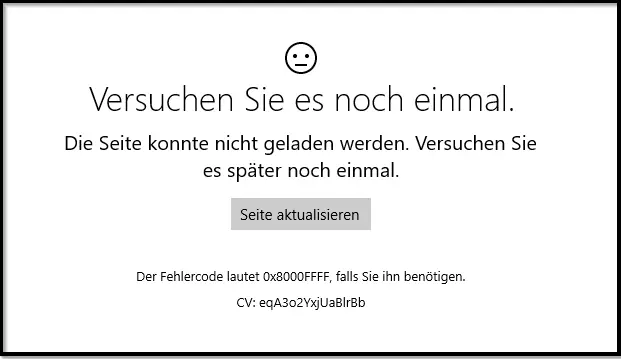 Here is the error message:
Try again.
The page could not be loaded. Try again later.
The error code is 0x8000FFFF if you need it.
In this case, the following steps should generally be carried out:
Attention: Before doing this, make a backup
Completely remove problematic software from the system (appwiz.cpl)
Deletion of the registry keys of the software
Deletion of the associated program directories of the software
Empty the folders C: TEMP, C: Windows Temp and C: Users USERNAME AppData Local Temp
Install all Windows updates
Restart the PC
if necessary, deactivate the virus scanner for the duration of the installation
if necessary, deactivate the firewall for the duration of the installation
If it still does not work, contact the software manufacturer.
Windows Update error 0x8000ffff
Error 0x8000ffff can also occur when installing Windows updates or when updating from Windows 7, 8, 8.1 to Windows 10 . The exact error message in this case is:
There were problems installing updates. We'll try again later. If you continue to experience this error and want to search the web or contact support, this error code can be helpful: (0x8000ffff)
In this case, you should check whether the Windows system files have been damaged. Then you should do the following:
Call MS-DOS command prompt with administrator rights (Windows key + X -> "Command prompt (administrator)
Enter the command including parameters "sfc / scannow"
The command "SFC" including the parameter "/ Scannow" checks the integrity of all protected Windows system files and repairs the files with problems if necessary. The command can also be used several times in succession. After that, the Windows Update problems or the error code 0x8000ffff should be eliminated.
Below we have listed other interesting amounts regarding Windows error codes :
– 0x80072ee2 Windows Update Error
– 0x800f0922 Windows Update Error
– Windows 10 Update Error 0x80d02002, 0x80244019 and 0xc1800118
– Windows Update Error 80246013
– Windows Update Error 80072F8F and 80244021
– Windows Update Error 0x8024402f