The Windows Update error code 0x80004005 is an update errors that can occur in various updates. We are aware of 2 different update problems , which we will discuss in more detail here.
0x80004005 Windows Update error:
The error 0x80004005 can when installing normal Windows updates occur that Microsoft on the Windows Update site is available. The error message is not limited to certain updates.

The following measures should be taken in this error case to remedy the problem.
Troubleshoot Windows Update
Microsoft has made a Windows Update Troubleshooter available for free download. The tool you can download directly from Microsoft, and is self-explanatory. Please do this and then check whether the update problem with error 0x80004005 still exists.
SFC / SCANNOW
Please open an MS-DOS command prompt that has administrator rights. (Windows key + "X" and command prompt (administrator)). Please give the order there
SFC / SCANNOW
and then the entire Windows system is checked for any problems in the system files and any errors are repaired and eliminated. This process can take 10-15 minutes. Afterwards it is essential to restart the system and start the update process again.
Reset update files
Another option is to completely delete or reset the Windows update files that have already been downloaded . This is possible if you terminate the services "wuauserv", "bits" and "cryptsvc" via " net stop ". Then you should do the following:
ren% systemroot% System32 Catroot2 Catroot2.old
ren% systemroot% SoftwareDistribution SoftwareDistribution.old
Then the services that you previously stopped can be restarted via " net start " in reverse order. Of course, you can simply restart your Windows system instead.
Flash Player Update 0x80004005
The update error 0x80004005 can also occur if you try to install a " Security update for the Flash Player for Internet Explorer " via the Windows Update function , as you can see below.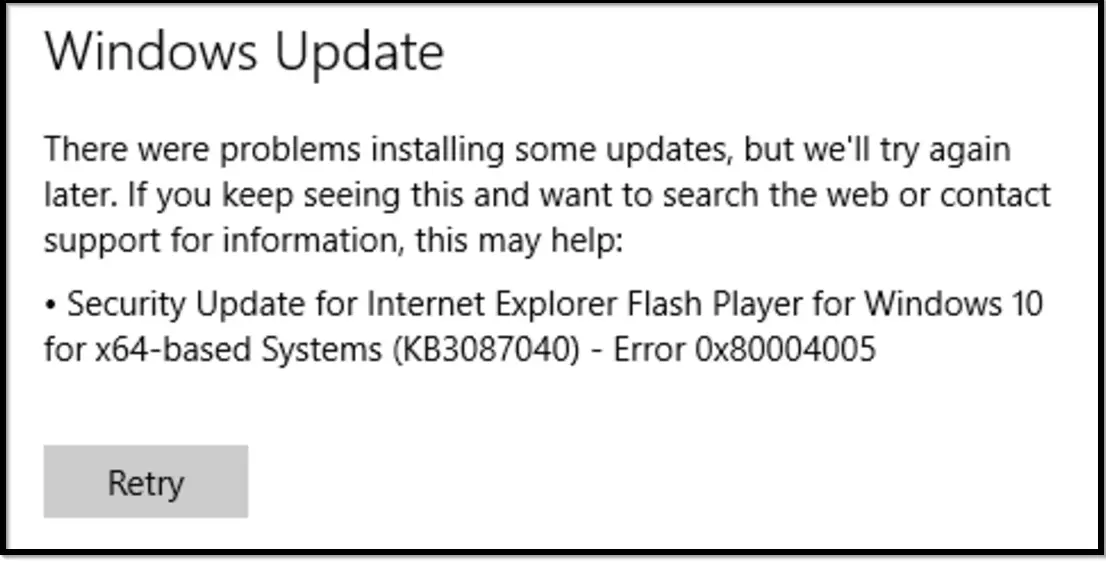 In this case you should choose the following way.
Windows Update Catalog
Please go to the " Windows Update Catalog " website and download the corresponding .MSU file directly there. In this example it is update KB3087040 , but it can be a different update.

After you have downloaded the appropriate .MSU installation file , you should install this .MSU directly with a double click . After that, your Windows Update problems should be resolved.
Below we have  listed some more interesting articles about Windows update problems .
– Windows Update Error 8024400A
– 0x800705b4 Windows Update Error Code – 0x80240017 Windows Update Error
Code – 0x80070490 Windows Update Error
Code
– 0x8007045A Windows Update error
– 0x80246003 Windows Update error Office Validation Add-in
– Windows Update error code 0x80245006
– Windows Update error code 0x80240fff