Windows updates should be installed by every Windows user at regular intervals. This not only eliminates software errors, it also includes some security updates that protect the Windows system better against attacks. Unfortunately, some users experience problems downloading and installing the updates . Just like in this case when we got the error message
received with our Windows 10 system . Below you can see the exact error message :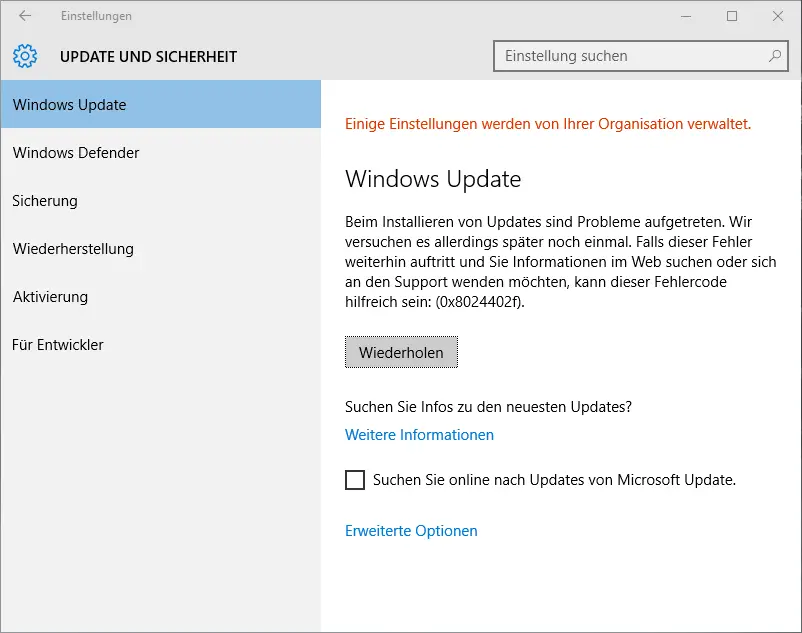 Windows update
There were problems installing updates. We'll try again later. If this error persists and you are looking for information on the web or would like to contact support, this error code can be helpful: ( 0x8024402f) .
Unfortunately there is no solution that always eliminates the problem. That is why we want to show 3 possible approaches, one of which usually works and eliminates the problem.
Deactivate Windows Firewall
Exactly this error message 0x8024402f can occur if the Windows Firewall is switched on. Briefly deactivate the Windows Firewall and then try again to install the Windows updates .
Check internet access
Even if there is a problem with the Internet access or access is via a proxy server , the message 0x8024402f can occur. Please check all settings and try again.
Switch off virus scanner & firewall from other manufacturers
Not only the Windows Firewall can lead to this error message 0x8024402f . Please briefly deactivate the virus scanner and also a firewall software if you are using it from a manufacturer other than Microsoft .
If you still have problems, please leave a short comment at the end of the article.
Error code 0x8024402f when updating from Defender
Error code 0x8024402f is also present when updating Windows Defender Security from Windows 10. Here the error message looks like this: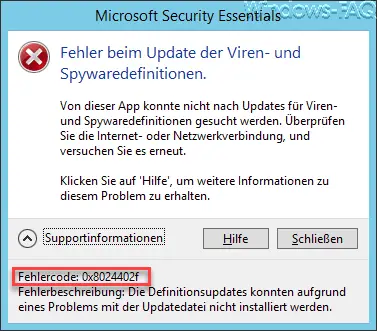 There is a problem updating the virus and spyware definitions . Here too there seems to be a problem with the communication with the Microsoft servers. Many users have reported that restarting the service
BITS (Automatic Background Transfer Service)
fixed the problem.
Below you will find more solutions to other Windows Update errors.
– 0x80070652 error code in Windows Update
– Windows Update error code 0x80240022
– 0x1900107 Windows Update error code
– 0x80070bc2 error code in Windows Update
– Windows Update error code 0x80244007
– 0x800f081e error code in Windows Updates
– 0xc000000f Windows Boot Error code
– 0x80245002 error code in Windows Update
– 0x8024200D Windows Update Error Code
– Windows Update error code 0xC1900101 – 0x30018