We have already reported on Windows 10 troubleshooting in the past, but mostly in relation to Windows Update problems or hardware functions that no longer work .
But Windows 10 Troubleshooter can do much more and we would like to take a closer look at the various possibilities of automatic troubleshooting of Windows 10 in this post .
As soon as you have problems with your Windows 10, Windows troubleshooting should be the first point of contact. You can access the problem handling via the well-known key combination

and then you have the area
Update and security
call. In this area you will see the option you are looking for in the left column
Troubleshooting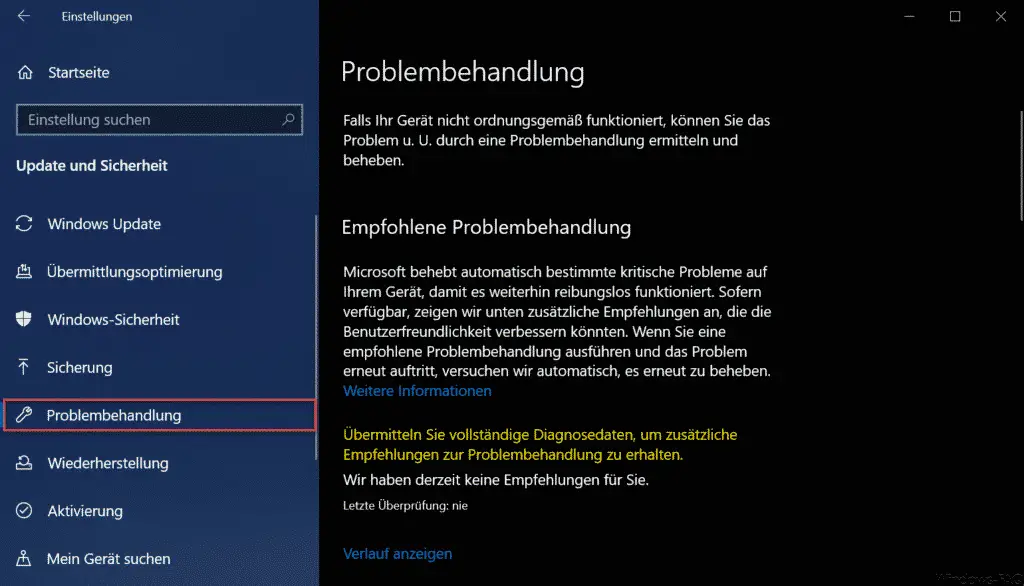 Microsoft explains this Windows troubleshooting as follows:
If your device is not working properly, you may be able to correct the problem. U. determine and fix by troubleshooting.
Recommended troubleshooting
Microsoft will automatically fix certain critical issues on your device to keep it running smoothly. If available, we'll show additional recommendations below that could improve usability. If you run a recommended troubleshooter and the problem recurs, we'll automatically try to fix it again.
Here you can also view the course of the troubleshooting, i.e. which recommended troubleshooting has already been carried out on this Windows 10 PC.
Fix the problem directly
Below this, the area "Fix problem directly" appears, which currently deals with the following 4 problem topics in Windows 10.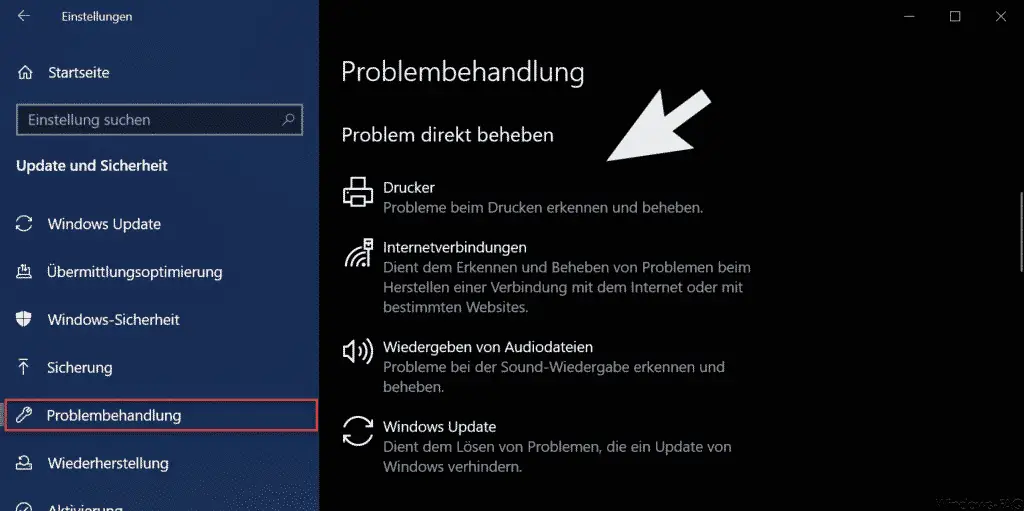 Printer (identify and fix printing problems).
Internet connections (used to identify and correct problems connecting to the Internet or certain websites).
Play audio files (identify and fix problems with sound playback).
Windows Update (used to solve problems that prevent Windows from being updated).
As soon as you carry out a corresponding troubleshooting, Windows 10 tries to determine the existing problems. If additional information is required during the problem detection and troubleshooting of Windows, the troubleshooting wizard asks you for this information. At the end of the troubleshooting, you will then be informed whether a problem has been identified and, if necessary, eliminated.
Find and fix other problems
But there are other troubleshooters that Windows 10 can run. These are the following.
Record audio files (identify and fix problems recording sound).
Bluetooth (detects and fixes problems with Bluetooth devices).
Incoming connections (used to identify and correct problems with incoming computer connections and the Windows Firewall).
Shared Folders (Used to identify and fix problems accessing files and folders on other computers).
Network adapter (used to identify and fix problems with wireless and other network adapters).
Troubleshoot program compatibility (used to identify and fix problems when running older programs on this version of Windows).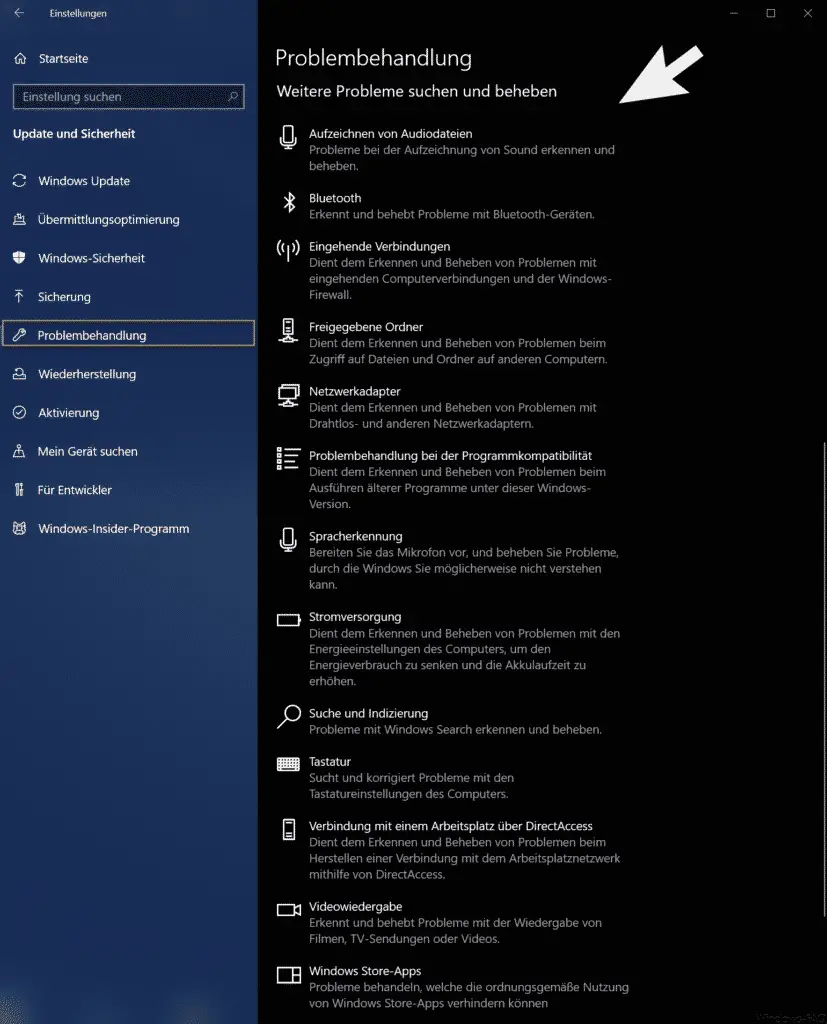 As you can see, the list of troubleshooters available is very long. Here as missing with a short explanation.
Speech recognition (prepare the microphone and fix problems that Windows may not understand).
Power (Used to identify and correct problems with your computer's power settings to send power and increase battery life).
Search and indexing (identify and fix problems with Windows Search).
Keyboard (Finds and corrects problems with the keyboard settings of the computer).
Connect to a workstation using DirectAccess (Detects and fixes problems connecting to the workstation network using DirectAccess.
Video playback (Detects and corrects problems with the playback of films, TV programs or videos).
Windows Store apps (Troubleshoot issues that can prevent Windows Store apps from working properly.
This gives you extensive tools for troubleshooting Windows 10. Please make sure that you carry out this troubleshooting as an administrator , otherwise you do not have the rights so that the troubleshooting can make changes to the Windows installation. However, should the individual troubleshooter determine that they do not have enough rights, please explicitly point this out.
You can also find many other posts about other  Windows errors here .