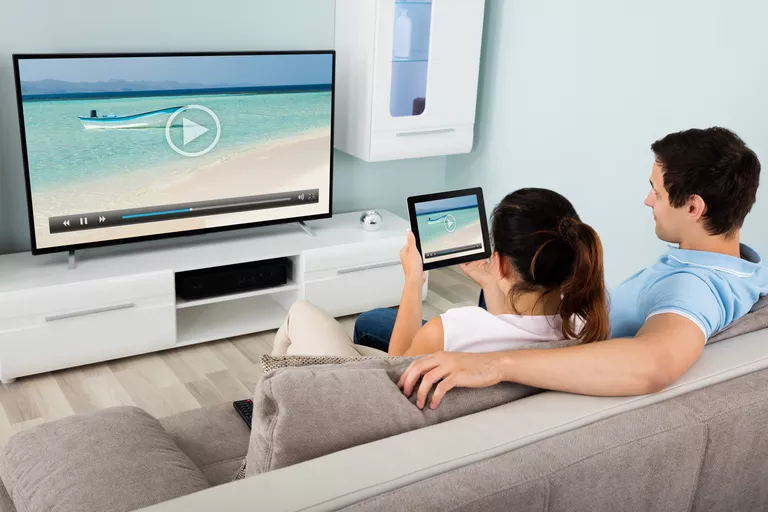 Screen Mirroring is a wireless technology that allows you to change the media (or cast it) that is playing on your smaller Android, Windows or Apple device to a larger one for a better viewing experience.
That larger device is usually a television or media projector, often one that you've installed in the media or living room of your home. The media you can stream includes but is not limited to personal photos and slideshows, music, videos, games, and movies, and can originate from the Internet or from an application such as Netflix or YouTube.
The protocol used to wirelessly mirror one screen to another is called Miracast, a word you may come across as you learn more about the technology.
Connect the phone or other device to a TV
To use screen mirroring, both devices must meet a few minimum requirements. The phone or tablet you want to launch from must support screen mirroring and be able to send data. The TV or projector you want to project to must support screen mirroring and be able to capture and play that data.
To find out if your phone or tablet supports mirroring, check the documentation or search the Internet. Note that you may also need to turn on the Miracast or Screen Mirroring feature in Settings, so keep an eye on that as well.
As for television, there are two great technologies. You can use a newer, smarter TV or projector that has screen mirroring built in, or you can purchase a media streaming device and plug it into an available HDMI port on an older TV. Because the data arrives wirelessly and through your home network, that TV or connected media device will also need to be configured to connect to that network.
Compatibility issues when projecting a screen
Not all devices play well together. You can't just throw any phone at any TV screen or somehow connect a phone to a TV using some magical app and force it to work. The fact that both devices support screen mirroring doesn't mean anything either; the devices also have to be compatible with each other. This compatibility is often where problems arise.
As you might suspect, devices from the same manufacturer are generally compatible with each other. For example, you can easily cast media from a new Kindle Fire tablet to Amazon's Fire TV. Both are made by Amazon and were designed to work together. Also, since Fire devices use the Android operating system, many Android-based phones and tablets are also compatible.
Similarly, you can mirror media from your iPhone to an Apple TV. Both are made by Apple and are compatible with each other. Apple TV also works with iPads. However, you cannot stream media from an Android or Windows device to an Apple TV. It's important for you to know that Apple doesn't play very well with others when it comes to media mirroring.
Other devices like Google's Chromecast and Roku media sticks also have limitations, as do smart TVs in general, so if you're in the market for a mirroring solution, be aware of what you'll be streaming. before you buy something to stream.
Explore Mirroring Apps
When you play media on your smartphone or tablet, you use an app. You may watch cable movies using SHO Anytime and live TV using Sling TV. Maybe you listen to music with Spotify or watch how-to videos with YouTube. These apps support screen mirroring and can be used when casting is an option.
Take a minute to try it out. How to explore your multimedia applications in very general terms:
Open an app on your device that allows you to view the media content.
Play any media available in that app.
Tap on the screen and tap on the mirror icon that appears there.
If you have a device available to cast to (and it's activated and ready to use), you'll see it there.
The mirroring experience on screen
Once you're viewing media through screen mirroring, you'll use the controls on your phone or tablet to control it. You can fast-forward, fast-rewind, pause, and restart, as long as the application and medium allow it. However, it is unlikely that you will be able to control the TV itself; keep the remote control that works with the volume close at hand.