Background images on Windows PCs are a very popular thing that many users deal with several times a year. Again and again you are looking for great wallpapers for your desktop. As you this wallpaper can define you know probably already. Today we want to go into how you can display different desktop images on multiple monitors .
So if you have 2, 3 or even 4 monitors connected to your PC, you can of course display a different background image on each monitor . This works as follows in two different ways.
Background settings
Simply open the Windows 10 settings window using the Windows key + "I" and enter " Background Settings" as the search term . Then the following window appears.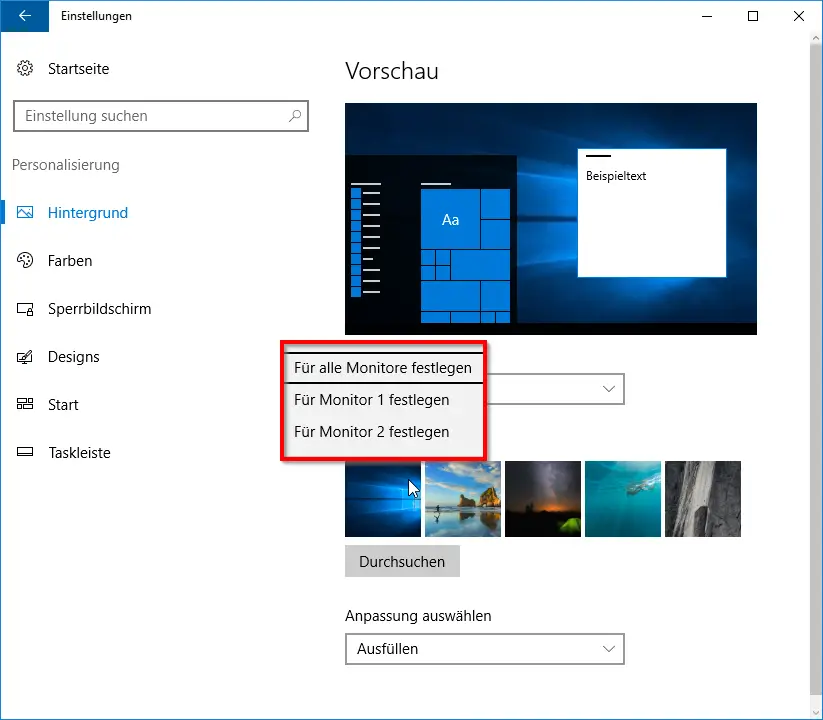 In this setting window for the desktop background you only have to click with the " right mouse button " on the desired background image and then you can choose on which of your monitors the desired desktop image is to be displayed. In this way you can then choose different desktop wallpapers.
Control Panel / Appearance and Customization
There is also a second way via the "old" control panel . Most users who have already worked with Windows 7 or earlier will know this way. Simply call up the control panel ( Windows key + X – control panel ) and then call up the following points
Presentation and customization / customization / desktop background
The window looks a little different here, too, not in the Windows 10 look.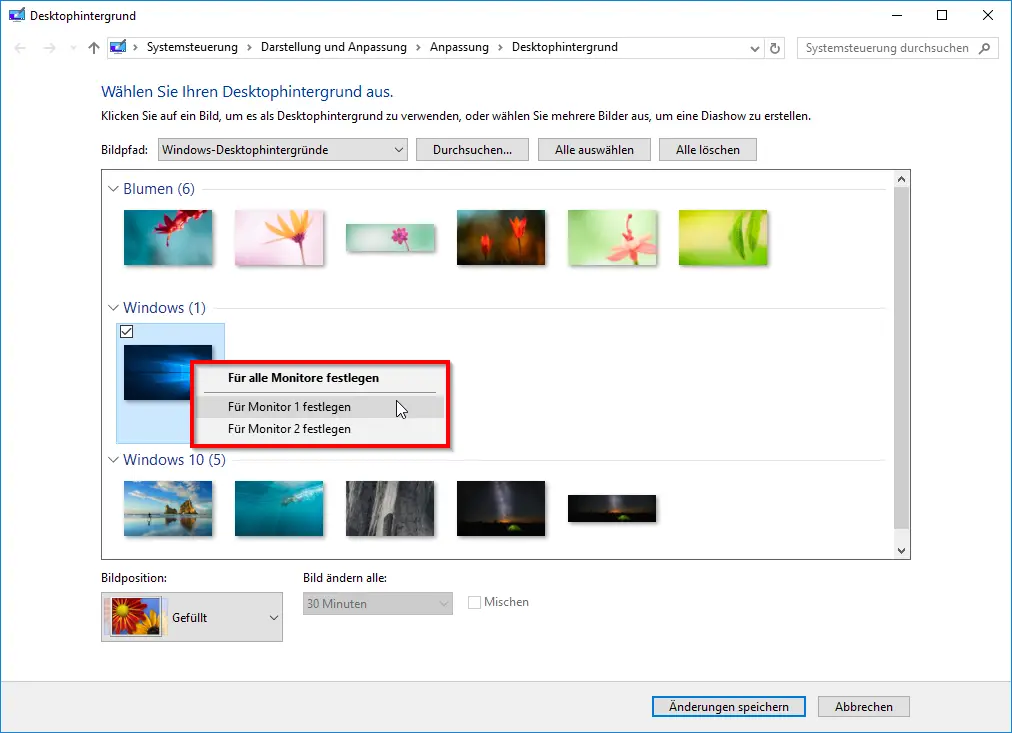 But here, too, it works exactly the same way, simply select the desired background image and select the corresponding monitor with the right mouse button.
If you have problems with a black lock screen without a background image in Windows 10 , please take a look at the following post .
Update from June 8th, 2018: In a new post we described how you can deactivate the active desktop background compression in Windows 10 . 
If you are interested in good and interesting background images, just have a look at the following collection, maybe one or the other is there for you.
– Windows 10 wallpapers in a different way
– Beautiful Windows 8 wallpapers (wallpapers)
– 13 beautiful winter wallpapers (wallpapers)
– Landscape wallpapers (wallpapers) for download
– 23 beautiful spring wallpapers for desktop
– Wonderful winter wallpaper themes for download
– 6 wallpapers for download bad weather !!
– Abstract wallpapers for desktop