In certain circumstances, it may make sense to reset the entire Windows Firewall settings to the default settings . This can be necessary, for example, if you are unable to find the cause when looking for certain problems or phenomena and it may be due to the Windows Firewall settings.
It is very easy to reset the Windows Firewall settings to the default settings . The easiest way to do this is to call the Windows Defender Firewall with the shortcut
wf.msc
and then you will find the option you are looking for in the right menu bar
Restore default policy
We have shown you this as an example below.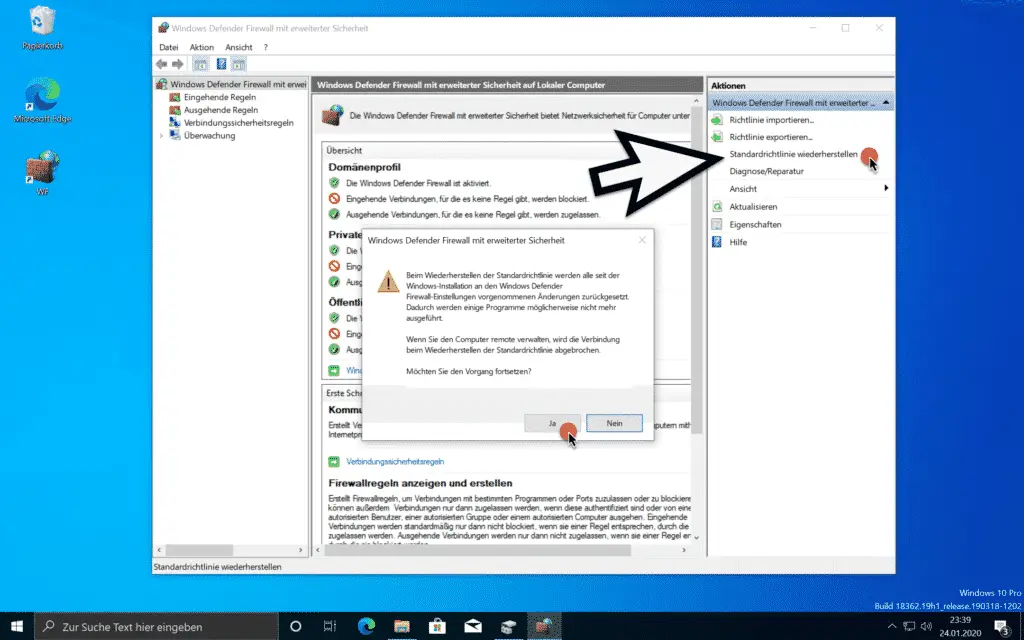 After pressing the " Restore standard guidelines " function , the following confirmation prompt appears.
When you restore the default policy, all changes made to Windows Defender Firewall settings since you installed Windows are reset. As a result, some programs may no longer run.
If you manage the computer remotely, the connection is broken when you restore the default policy.
Do you want to continue?
If you answer this question with " Yes ", all Windows Defender Firewall settings will be reset . This process can no longer be undone. If necessary, you should export the current firewall guidelines beforehand .
After successfully resetting the firewall guidelines  to default, the following message appears.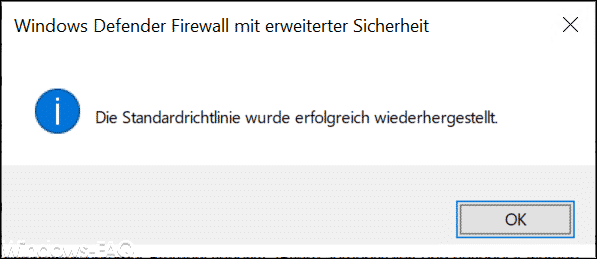 The default policy was successfully restored.
Through this process, all Windows Firewall settings are now reset to standard .
If you are interested in further information about the Windows Firewall , we recommend the following articles.
– Export and import Windows Firewall rules
– Configure Windows Firewall using Group Policy (file and printer sharing)
– PowerShell command to deactivate the firewall
–
Use Windows PowerShell command to query, switch off and on – Windows 0x800706d9 error message – Windows Firewall problems
– Command to quickly Deactivate the Windows Firewall
– 0x80070422 Windows Firewall Error
– For Windows 7 configure the firewall for WMIC remote queries – Use a
shortcut (shortcut) to switch the Windows Firewall on or off