The new Windows 10 Edge Chromium Browser has been officially available for a few weeks now and is becoming increasingly popular. However, problems can arise especially on older PCs or on Windows devices with low performance , since parts of the Edge Chromium continue to run in the background by default . It also negatively affects the battery of mobile Windows devices and this leads to shorter battery life .
By default, the Edge Chromium is set to continue running background apps when Microsoft Edge is closed. This can certainly lead to performance problems and we show you here in this short guide how you can deactivate the background execution from Microsoft Edge.
The easiest way to do this is to go to the following URL in the URL line:
edge: // settings / system
Then the Microsoft Edge Chromium immediately opens the correct settings page and shows you these three options to choose from.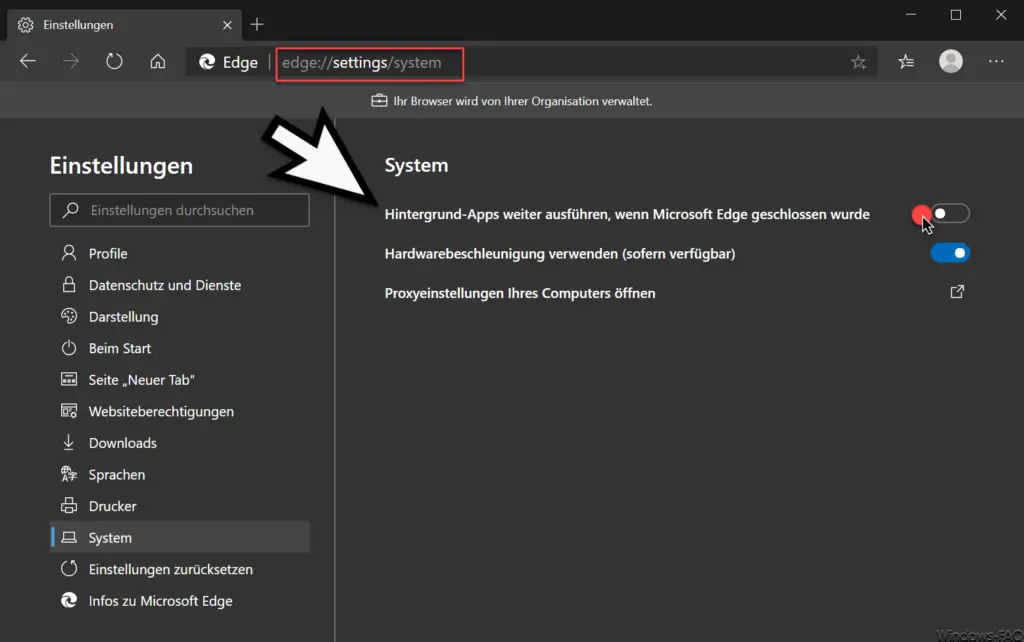 As you can see in the picture, the first setting is the one you are looking for.
Keep running background apps when Microsoft Edge is closed
As already said, this option is activated by default . If you now deactivate this option , there will no longer be any edge background tasks running in the future and system resources saved, which should have a positive effect on the speed and battery life.
In order for this deactivation of the background processes to become active, you have to end all open tasks of the Edge Chromium, because these settings will only become active the next time the browser is restarted. Of course you can reactivate this option at any time.
Due to the many innovations that the Microsoft Edge Chromium brings, we have often reported about the new Windows 10 browser in the past few weeks. Below you will find a selection of the most popular Microsoft Edge Chromium articles.
– Change the standard search engine provider in the Edge Chromium
– Useful keyboard shortcuts from the Edge Chromium
– Overview of the Edge Chromium URLs for quick access
– Download the final Edge Chromium (stable) official version
– Add favorites, bookmarks, passwords from other browsers to the Edge Chromium
– Microsoft Prevent Edge Update to Edge Chromium