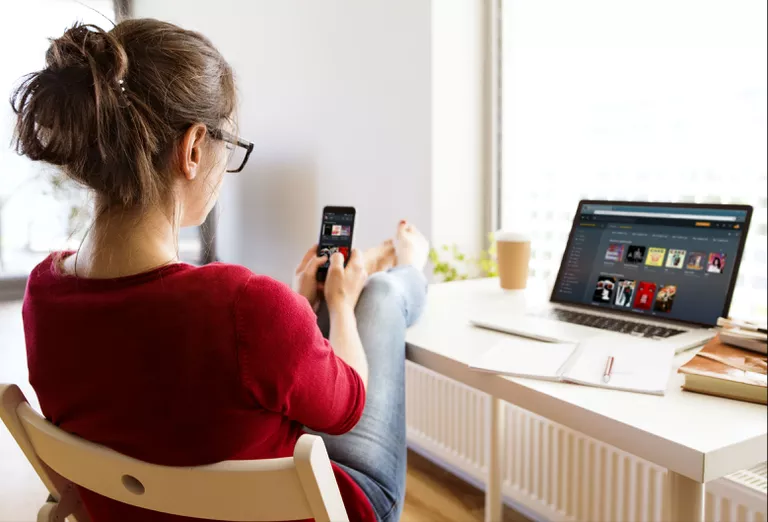 Plex is software designed to let you view your own digital media library on almost any internet-connected device in much the same way as streaming movies from Netflix or music from Spotify. This is perfect for anyone who has a lot of DVD and Blu-ray movies, and it's even better if you've already digitized your media collection.
What you need to use Plex
To use Plex, you need a digitized media collection, a computer powerful enough to stream music and video, and a home network. You also need a broadband internet connection that offers decent upload speeds if you want to be able to stream through Plex when you're out and about.
Here's a basic rundown of what you need and why:
Digitized Media Collection – If you have a huge library of DVDs, Blu-rays, and CDs, that's great. But you need to convert that physical media collection to a digital one before you can use it with Plex. This involves taking the data from the disks, moving it to your computer, and converting it into a format that Plex can stream.
Computer – You can use a Windows, Mac, or Linux computer, but it must meet some basic specifications. If your computer doesn't have enough storage space for your digital library, you can connect an external hard drive.
Network Attached Storage (NAS) – If you have a NAS device, you may be able to use it instead of a computer. This is more complicated than using a computer, so it's for advanced users only.
Plex Media Server – This is free software that you need to install on your computer or NAS. It allows you to organize your media collection and is what allows you to stream from your computer or NAS device to other devices.
Plex Account – You need to sign up for a Plex account to use Plex Media Server.
Home network – The computer or NAS running Plex Media Server should be connected to the home network with an ethernet cable if possible. You can stream to other devices on your network via Wi-Fi.
Broadband Internet – The upload speed of your Internet connection determines whether you can stream from Plex when you're away from home. If you don't have a strong internet connection, you can only use Plex on your home network.
Supported Streaming Devices – Once Plex Media Server is up and running, you can stream to your phone, game console, other PCs and laptops, and most TV streaming devices like Apple TV, Roku, and Apple TV. AndroidTV.
How to use Plex
To use Plex, you need to sign up for a Plex account, install Plex Media Server on your computer or NAS, install the Plex app on your other devices, and make sure to digitize your media collection.
Here are the basic steps you'll need to follow to start streaming with Plex:
Download and install Plex Media Server.
Sign up for a free Plex account.
Subscribe to Plex Pass (Optional).

Plex Pass is necessary if you want to stream and record live TV, and it's also worth it if you want to stream to lots of mobile devices. Without Plex Pass, you must pay a one-time fee per mobile device to allow streaming.

Digitize your media collection.
Import your digital media collection into Plex.
Install Plex on your mobile and streaming devices.
Stream your media through Plex to mobile devices through the Plex app and to other computers through the Plex web player.
Plex Media Server Installation and Plex Registration
The first step to getting started with Plex is to sign up for a Plex account and install Plex on your computer. Signing up for Plex is free, and you can use your Facebook or Google account if you prefer not to create a new account.
To sign up for Plex, navigate to plex.tv/sign-up/. Click continue with Google or continue with Facebook to use your existing Google or Facebook username with Plex, or click continue with email to create a new Plex account. Then follow the instructions on the screen to complete the registration process.
To install Plex Media Server, go to plex.tv/media-server-downloads/. Using the dropdown menu, select your operating system and click Download . When the download is complete, open the Plex Media Server file you downloaded and follow the on-screen prompts to complete the installation.
Once you have Plex Media Server running on your computer, you can navigate to app.plex.tv/desktop to manage your server and organize your media collection.
Digitize your media collection for Plex
The next step is to digitize your physical media collection. To accomplish this, you'll need to put your DVDs, Blu-rays, and CDs into your computer's drive and use software to convert each of them into digital files.
There are many different software packages that can help you digitize your media collection. Some programs just copy the files from the drives to your computer, some just convert them to a format Plex can work with, and some do both in one process.
Parking Brake is an example of an application that can perform the entire process, from start to finish, without the need for a second program. It is available for Windows, Mac OS, and Linux, and you can download it for free from the official site.
For more detailed information, including helpful setup tips, check out our comprehensive guide on using the parking brake. If you prefer to use a different program, we also have a list of the best DVD ripping software out there.
Digitization of music collections
The easiest way to digitize your music collection is to use iTunes or Windows Media Player, which are free programs that many people already use to listen to music. With both programs, as long as you have a CD inserted in your computer's drive, you have the option of converting it to digital music files.
For more information on importing music CDs:
Windows and Mac OS: How to copy your music CDs with iTunes.
Windows only: How to copy music CDs with Windows Media Player.
Import your media collection to Plex Media Server
Once you've started digitizing your media collection, you're ready to import everything into Plex Media Server. This is a quick and easy process that doesn't actually involve moving files. All you have to do is tell Plex where to find your files.
The first step is to navigate to app.plex.tv/desktop using a web browser like Chrome, Firefox, or Edge. If you're not already signed in, you'll need to sign in using the same account you used to set up Plex Media Server.
Once the page has loaded, move your mouse over the LIBRARY heading in the left menu and click the + icon that appears. This will allow you to add a new library of digital media files to Plex.
On the Add Library menu , click the type of library that you want to add, and then click Next .
If you want to further organize your media library, create separate libraries for different genres of movies, TV shows, and music by entering a unique name before clicking Next .
On the next screen, click Browse for media folder , and browse for the media folder you want to import. Once you've located the folder, click Add Library .