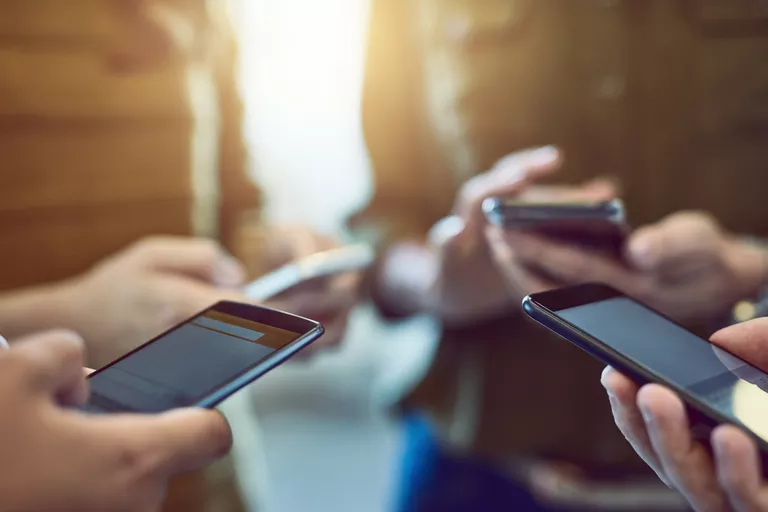 Given the rapid growth and development of modern mobile software, it can seem like there's a good app for just about everything. Although some of us would love to download and use them all, smartphones and tablets have limited storage space: only certain devices are capable of moving files, photos, and apps to a high-capacity SD card.
But if you care about neat features, there is a way to transfer files to another device wirelessly without needing an app or data/internet connection . Bluetooth is most often associated with wireless speakers, headphones, mice, and keyboards. However, it also contains protocols that allow the exchange of information/data between devices. That's right. You've been able to transfer files over Bluetooth all this time and you probably didn't even realize it! Read on to learn:
What is bluetooth file transfer
?
?
How to transfer files via Bluetooth
What is Bluetooth file transfer?
Bluetooth file transfer is an easy way to send files to another nearby Bluetooth device without the need for a separate app. If you know how to pair a Bluetooth headset with a smartphone, then you are equally capable of transferring files via Bluetooth.
The great thing about Bluetooth is how universally available it is and is compatible with smartphones, tablets, laptops, and desktop computers. You can easily transfer files via Bluetooth between: Android OS, Fire OS, Blackberry OS, Windows OS, Mac OS, and Linux OS.
You'll notice that iOS and Chrome OS are not included; Apple mandates that the former requires a separate app (for example, you'll need to use something like Move to iOS or Apple AirDrop to transfer files and photos from iPhone to Android) for wireless file transfer, while the latter doesn't currently support transfer. of files via Bluetooth. Basically, devices that support Bluetooth file transfer must have a system preference or setting that is supported and/or called "Bluetooth Share" (or similar).
Why use Bluetooth file transfer?
There are many ways to transfer files from smartphone to smartphone, from Android to Android, or from one operating system platform to another. Although Bluetooth may not be the fastest method, it has the fewest requirements needed – no apps, no cable/hardware, no Wi-Fi network, no 3G/4G data connection – making it very convenient in a heartbeat of eyes.
Let's say you meet an old friend on the go and want to quickly share a few photos between smartphones. This is how Bluetooth beats the other options.
Bluetooth vs. USB cable: Do you always remember to take your smartphone's USB data/charging cable with you everywhere? Probably not. And if you do, it's probably the kind that plugs into a standard USB port instead of connecting directly to another mobile device.
Bluetooth vs. OTG Cable: So maybe you carry your data cable with you at all times, and you have a USB OTG (On-The-Go) cable too. This may work for transferring files, but only if both devices support USB OTG and have the correct cable connections. But now you are carrying two cables at all times.
Bluetooth flash drive vs. OTG: There are flash drives that have dual connectors for use with computers and smartphones/tablets. While more convenient than the previous option, OTG and connector compatibility between devices is still required.
Bluetooth vs. Personal hotspot: A personal hotspot (tethering) can be set up and used on iOS or Android. However, not all devices have that option. Those that do typically require a monthly subscription fee through the phone company in order to enable the feature. And then you would need a strong 3G/4G signal, which is not always guaranteed (for example, inside parking structures, office buildings, Costco stores, etc.).
Bluetooth vs. Portable Media Hub/Hard Drive: Some portable media centers and hard drives are capable of broadcasting their own local wireless network for devices to connect to. However, a mobile device would need the product's companion app before it can connect and upload/download (speed is not guaranteed) any files. Also, always remember to bring the unit and keep its battery charged.
Bluetooth vs. Wi-Fi Direct: Transferring files directly over Wi-Fi is a very similar process to transferring files over Bluetooth. But Wi-Fi Direct is not as universal as Bluetooth, and not many devices support this feature. And some devices that do support Wi-Fi Direct require a special app to use.
Bluetooth vs. Cloud Storage/Email: You really can't go wrong when saving and sending files via cloud storage and/or email. However, at the moment, each device would need to have a strong enough data/internet connection to be able to upload/download files or access email.
Bluetooth vs. File transfer app If you search the Google Play Store or Apple's App Store, you will find many apps that transfer files from one device to another. But keep in mind that some only work when both devices have the same app, and others may also require a wireless network or data connection.
Transferable File Types
You can transfer almost any type of file via Bluetooth: documents, photos, videos, music, applications, etc. If you can navigate the folder system of a computer or smartphone to find a specific file, you can send it. Just keep in mind that the receiving device must be able to recognize the file type in order to use/open it (i.e. if you send a PDF document from one device, the other will need software or an app to read/access that PDF ).
The significant limitation of using Bluetooth to transfer data is the size of the files versus the transfer speed, which basically affects your time and patience. The Bluetooth transfer speed depends on the version:
Bluetooth 2.x has a maximum data transfer rate of 2.1 Mbit/s (about 0.25 MB/s)
Bluetooth 3.x has a maximum data transfer rate of 24 Mbit/s (about 3 MB/s)
Bluetooth 4.x has a maximum data transfer rate of 24 Mbit/s (about 3 MB/s)
Bluetooth 5.x has a maximum data transfer rate of 50 Mbit/s (about 6 MB/s)
Suppose you want to use Bluetooth to send a photo from your smartphone to a friend's smartphone, and let's say the file size is 8 MB. If both smartphones have Bluetooth version 3.x/4.x, expect a photo to transfer in about three seconds. How about a single 25 MB music file? You can wait about nine seconds. How about a 1 GB video file? You can wait about seven minutes. But keep in mind that those times reflect theoretical/maximum speed . Actual (ie real-world) data transfer speeds are significantly less than the specified maximum. So in practice, that 8GB photo is more likely to require a full minute of transfer time.
When you look at other ways to transfer data, Bluetooth is comparatively slow by the numbers. For example, USB 2.0 (common for smartphones, computers/laptops, and USB sticks) is said to have an effective throughput of up to 35 MB/s – nearly 11 times faster than the maximum speed of Bluetooth 3.x/ 4.x. Wi-Fi speeds can range from 6MB/s to 18MB/s (depending on protocol version), which is two to six times faster than the maximum speed of Bluetooth 3.x/4.x.
How to transfer files or photos from phone to phone
There are two steps to setting up a Bluetooth file transfer between smartphones/tablets: enable Bluetooth (and visibility), and send the desired file(s) . If it's a desktop or laptop computer, you'll first need to set up (pair) your mobile device with your computer before attempting to transfer files via Bluetooth. Most Android smartphones/tablets and desktop/laptop systems should follow a relatively similar process.
The following instructions should apply no matter who made your Android phone: Samsung, Google, Huawei, Xiaomi, etc.
Enable Bluetooth on Smartphones/Tablets:
Open the app drawer (also known as App Tray) by pressing the home button to open the full list of apps available on the receiving device.
Scroll through the apps and tap Settings to launch it (the icon looks like a gear). You can also access Settings by opening the slider/pull-out notification panel from the top of your device screen.
Scroll through the list of various system settings (look for Wireless and Networks) and tap Bluetooth . Many devices offer quick access to Bluetooth by opening the slider/pull-out notification panel from the top of the screen (usually long press here, as pressing would simply turn Bluetooth on/off).
Press the button/switch to activate Bluetooth. You should now see a list of Paired Devices (for example, any Bluetooth audio devices you've paired with before), as well as a list of Available Devices.
Click the checkbox to make the receiving device visible/discoverable by other devices (it should be labeled as such). You may see a timer that counts down the visibility duration – once it reaches zero, Bluetooth visibility turns off, but then you can simply tap the checkbox to enable it again. If there is no such box, the device should be visible/discoverable while Bluetooth settings are open.
If you plan to send files to/from a smartphone/tablet and a desktop/laptop, make sure the mobile device is connected or paired with the computer (this is done on the computer end).
Send file(s) from Smartphones/Tablets:
Open the app drawer (also known as app tray) by pressing the home button to open the full list of apps available on the sending device.
Scroll through the apps and tap File Manager . This could also be called Explorer, Files, File Explorer, My Files, or something similar. If you don't have one, you can always download it from the Google Play store.
Browse the device's storage system until you find the desired files you want to send. (Camera photos are in the DCIM folder.)
Tap the menu icon (usually located in the upper right corner) to display a dropdown list of actions.
Select Select from the action dropdown list. Empty checkboxes will appear to the left of the files, as well as a single empty checkbox at the top (usually labeled "Select All" or "0 Selected").
Otherwise, tap and hold on one of the files to bring up the empty checkboxes mentioned above.
Click on the empty checkboxes to select the individual files you want to send. The selected items will have their check boxes filled in.
You can tap the checkbox at the top to Select All (repeating taps toggles selecting all/nothing). You should also see a number at the top, reflecting the total number of files selected.
Locate and tap the Share icon (the symbol should look like three dots connected to each other by two lines, making almost a full triangle). This symbol can appear at the top next to the menu icon or in the action dropdown list. Once you've tapped on it, you should see a share list popup.
Scroll/swipe through the sharing list (it may not be in alphabetical order) and tap the option/icon for Bluetooth . You will now be presented with a list of available Bluetooth devices that you can send messages to.
Tap on the Bluetooth device you want to transfer the files to. A "Sending # Files to [device]" message will flash briefly on the screen.
After several seconds, the receiving device should see a file transfer notification window (often with details about the file name, file size, and sending device) appear on the screen or in the notification bar. This window may disappear (nothing will be transferred) if no action is taken for about 15 seconds. If this happens, just resubmit the file(s).
Press OK on the receiving device to download the files. If the receiving device is a computer, you may have the option to browse and save to another folder location (the default is usually "Download/Accept Files" or something similar). There should also be a Decline/Cancel/Reject action in case you want to decline the transfer.
Files are downloaded one by one (you can see a progress bar in the transfer window or in the notification panel at the top of your device screen). Once the file transfer is complete, both device screens may display a confirmation message and/or notification of files received (sometimes showing the total number of successful or unsuccessful files).
Send file from desktops/laptops:
Navigate through the device storage/file system until you find the desired file you wish to send. Expect to be able to send only one at a time.