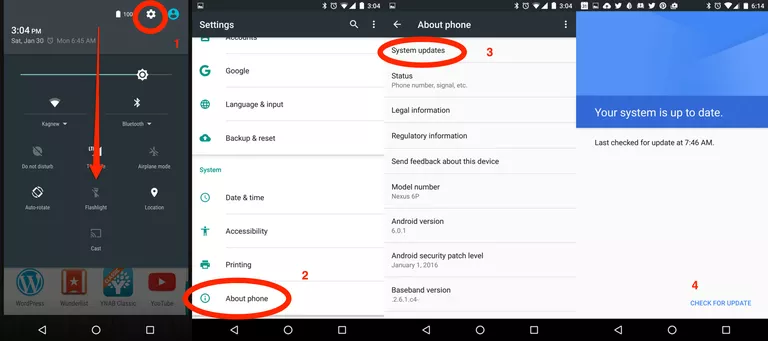 The Android operating system for smartphones and tablets receives regular system updates, as does Apple's iOS for the iPhone and iPad. These updates are also called firmware updates as they work at a deeper system level than normal software (app) updates and are designed to control hardware. Firmware updates on the phone require permission, time, and a device reboot. It's also usually a good idea to leave your phone on a charger during the firmware update so there's less chance of accidentally running out of batteries mid-update and breaking your phone.
Google periodically updates the firmware on your Android phone by sending updated information directly to your mobile phone or Wi-Fi connection. When you turn on the phone, it indicates that an update is available. These updates roll out in waves per device and carrier, so they're not available to everyone at once. This is because firmware updates must be specifically compatible with the phone's hardware, rather than apps, which work with a wide variety of devices. Sometimes it's hard to be patient, so here's how you can check if your update is available now.
How to check for Android updates
This approach works on newer versions of Android, although some versions may have slight variations in the location of the options.
The following instructions should apply no matter who made your Android phone: Samsung, Google, Huawei, Xiaomi, etc.
Turn on your phone and drag your finger down from the top of the screen to open the settings menu. (You may have to scroll down twice to get to the correct menu.)
Tap the gear icon at the top of the screen to open Settings .
Scroll down to About phone and tap on it.
Click System Updates.
You should see the screen showing whether your system is up to date and when the update server was last checked. You can optionally select Check for update if you want to check again immediately.
If an update is available, tap to begin installing it.
Considerations
Because Android is a fragmented operating system, meaning it is configured separately by different device manufacturers and mobile carriers, updates are rolled out at different times to different customers. The quickest recipients of any new update are Google Pixel users, as updates are pushed directly by Google without needing to be reviewed or modified by a vendor.
Users who root their phones (i.e. have modified the device to a very basic level of OS) may not be eligible for carrier updates and will need to mirror their phones to update to the latest carrier image. Android optimized for your device. Most phone manufacturers warn against rooting.
A firmware update has nothing to do with normal app updates that are done through the Google Play Store. App updates do not require approval from device manufacturers or mobile carriers.