Usually the Windows mouse pointer is always visible , it does not disappear from the screen or Windows desktop. In certain circumstances, however, it can make sense to hide the mouse pointer when writing text .
There is an option for this function in the mouse settings. To hide the mouse pointer while entering the keyboard , you have to do the following.
First you call using the key combination

Windows key & "I" the Windows 10 settings. Then the point is
Devices (mouse)
and then again the dot on the left
mouse
to call.
Then, as can be seen in the following illustration, you will find the point at the bottom
More mouse options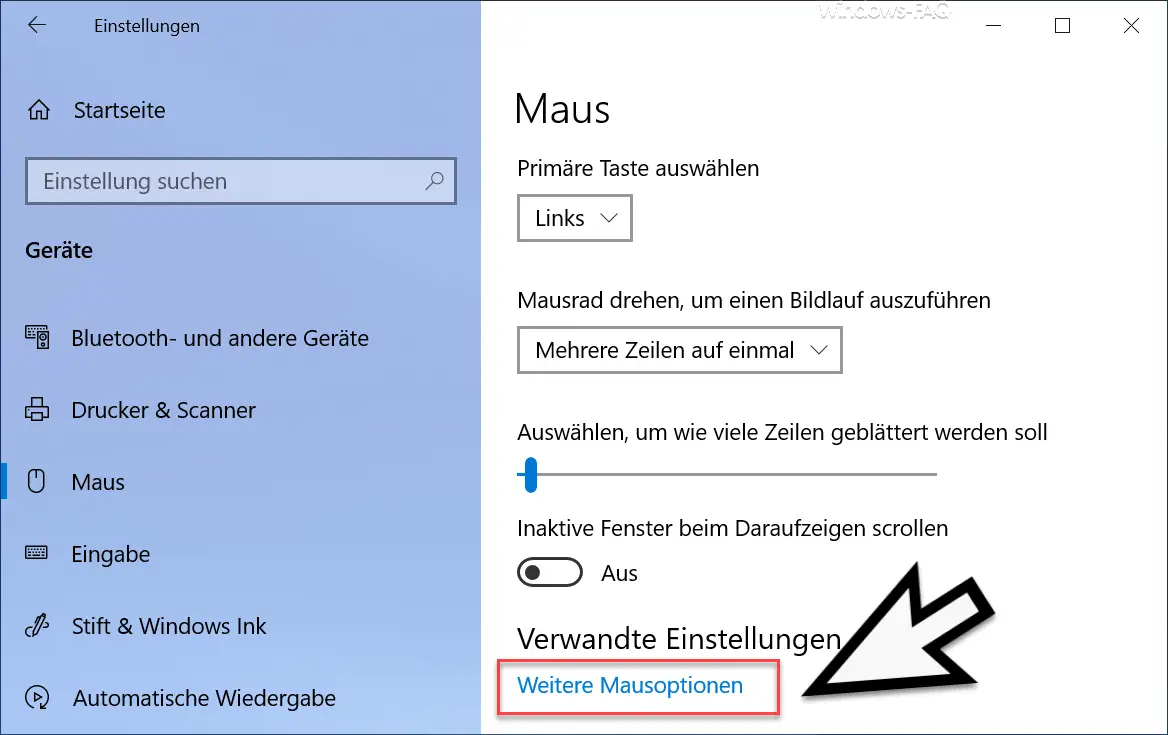 Then another window with the mouse options appears.
In earlier versions of Windows you will find these functions in the Windows Control Panel and then also under the item " Mouse ".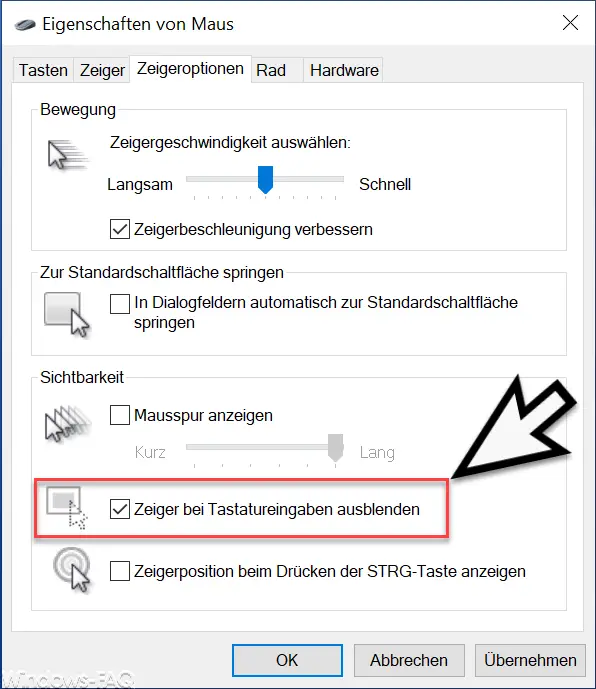 You will then find the desired mouse option in the tab
Pointer options
As you can see in the picture above, you have to activate the following mouse option
Hide pointer on keyboard input
Finally you have to activate the changes with " OK " or " Apply ". Now you can best check it in Word or Wordpad. When you write a text, the mouse pointer disappears from the screen .
As a rule, the mouse settings can all be configured via the registry . So far, however, we have not found a way to control the " Hide pointer on keyboard input " function using a registry value. If you know which registry value would be responsible for this, we would appreciate a comment at the end of this article.
You can find more mouse options in these articles here on our Windows FAQ blog.
– Scroll inactive windows when pointing – Windows 10 mouse setting
– Deactivate or keep the touchpad switched on when the mouse is plugged in
– 3 finger gestures and 4 finger gestures on the touchpad in Windows 10
– Set the mouse's double-click
speed in Windows 10 – Mouse pointer speed in Windows 10 change
– resize mouse pointer
– activate mouse track in Windows 10
– swap right and left mouse button in Windows 10