With the KB4540673 update  , Microsoft released another cumulative update for Windows 10 versions 1903 and 1909 on Patchday in March 2020 .
This update  KB4540673 is now available for download and installation via Windows Update, the WSUS server and the Microsoft Update Catalog .
After the KB4540673 installation , your Windows 10 build number shows the build number 18362.719 (version 1903) or 18363.719 (version 1909) depending on the Windows 10 version.
Microsoft has integrated the following highlights into the update KB4540673 .
It includes updates to improve security when using Microsoft Edge and Internet Explorer.
Furthermore, updates for checking user names and passwords are included.
Additional updates to improve security when using external devices (e.g. game controllers, printers and web cameras).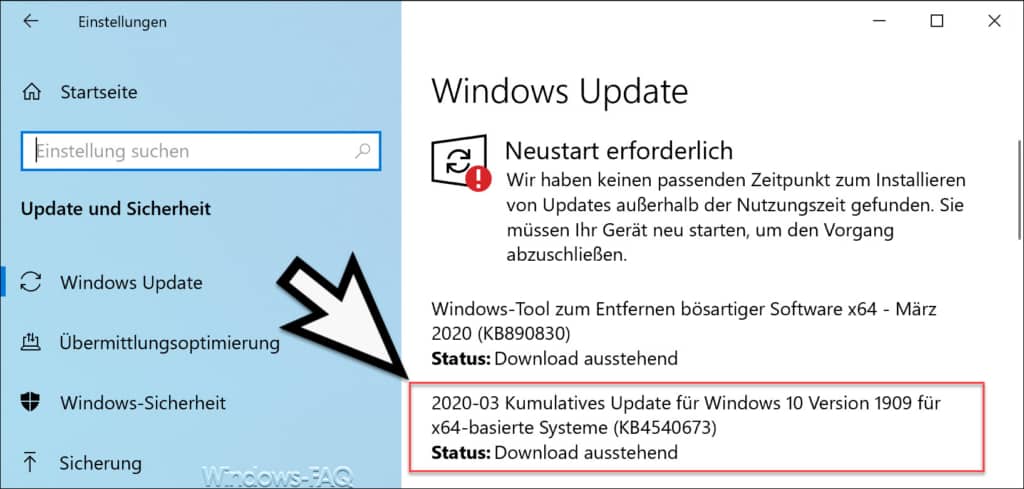 The following fixes for update KB4540673 apply to Windows 10 versions 1903 and 1909.
The update KB4540673 resolves a problem that prevents some users from updating the operating system due to damaged assemblies from third parties.
It includes numerous security updates for Windows App Platform and Frameworks, Windows Media, Windows Silicon Platform, Microsoft Edge, Internet Explorer, Windows Basics, Windows Authentication, Windows Peripherals, Windows Update Stack and Windows Server.
The following problem of update KB4540673 is currently known.
Problems with 32-bit applications and processes may occur when using Windows Server containers with the March 10, 2020 updates.
Workaround:  
For important information about upgrading Windows containers, see Compatibility with Windows container versions .
Below you will find the suitable  KB4540673 download links .
Windows 10 version 1909:
– Download 2020-03 Cumulative Update for Windows 10 Version 1909 for x64-based Systems (KB4540673)
– Download 2020-03 Cumulative Update for Windows 10 Version 1909 for x86-based Systems (KB4540673)
– Download 2020-03 Cumulative Update for Windows Server 2019 version 1909 for x64-based systems (KB4540673)
Windows 10 version 1903:
– Download 2020-03 Cumulative Update for Windows 10 Version 1909 for x64-based Systems (KB4540673)
– Download 2020-03 Cumulative Update for Windows 10 Version 1909 for x86-based Systems (KB4540673)
– Download 2020-03 Cumulative Update for Windows Server 2019 version 1909 for x64-based systems (KB4540673)