With the update KB4549951 for Windows 10 versions 1903 and 1909 , Microsoft released another cumulative update on Patchday in April 2020.
This update  KB4549951 raises the Windows 10 build number to version number 18362.778 or 18363.778 , depending on whether you have used or installed Windows 10 version 1903 or 1909.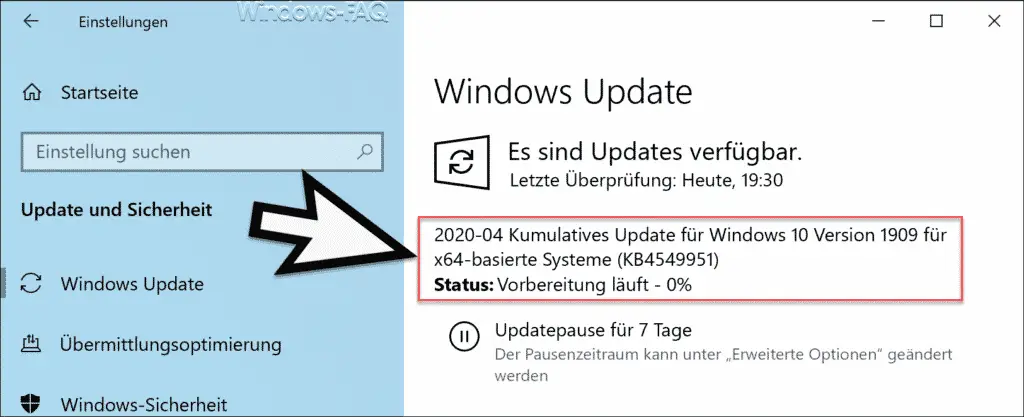 The update KB4549951 is available now through Windows Update, through Windows Server Update Services server (WSUS) or via the Microsoft Update Catalog.
The following bug fixes have been included in the update KB4549951.
It includes updates to improve security when using Microsoft Office products .
Furthermore, updates to improve security when Windows performs basic operations are included in the update.
It includes updates to save and manage files.
This update KB4549951 resolves a problem that prevents certain apps from being installed when published using a GPO.
In addition, the cumulative update  KB4549951 contains numerous security updates for Microsoft Scripting Engine, Windows App Platform and Frameworks, Windows Cloud Infrastructure, Windows Virtualization, Microsoft Graphics Component (WGC), Windows Kernel, Windows Media, Windows Shell, Windows Management, Windows Fundamentals, Windows Virtualization, Windows storage and file systems, Windows Update Stack and the Microsoft JET Database Engine (MJDE).
Below you will find the suitable KB4549951 download links for Windows 10 versions 1903 and 1909.
Windows 10 version 1909:
– Download 2020-04 Cumulative Update for Windows 10 Version 1909 for x64-based Systems (KB4549951)
– Download 2020-04 Cumulative Update for Windows 10 Version 1909 for x86-based Systems (KB4549951)
– Download 2020-04 Cumulative Update for Windows Server 2019 version 1909 for x64-based systems (KB4549951)
Windows 10 version 1903:
– Download 2020-04 Cumulative Update for Windows 10 Version 1903 for x64-based Systems (KB4549951)
– Download 2020-04 Cumulative Update for Windows 10 Version 1903 for x86-based Systems (KB4549951)
– Download 2020-04 Cumulative Update for Windows Server 2019 version 1903 for x64-based systems (KB4549951)