We installed 2 important updates on our TrendMicro OfficeScan server today , since we have had problems with the TrendMicro OfficeScan client 4268 since Windows 10 Anniversary Update 1607 . We reported about this a few days ago in the article "TrendMicro OfficeScan error BA060000 after Windows 10 Anniversary Feature Update".
That's why we have the update
osce-11-sp1-win-en-criticalpatch-6054 and
osce_11_sp1_5010_6125_win_all_criticalpatch
installed on the OfficeScan server , so that the new client and server version should now be 6054. With this version, the described Windows 10 Anniversary Update problem should be solved and advanced behavior monitor settings for ransomware have been added.
After the installation, which went perfectly, we wanted to check whether the OfficeScan server now has the current version 6054. Unfortunately, this function is very hidden, the online instructions available on the Internet are all out of date. Therefore, here is a brief description of how you can query the current version number of your TrendMicro server .
In the dashboard at the top right on " More ", then on the options on " About ". The corresponding version information then appears .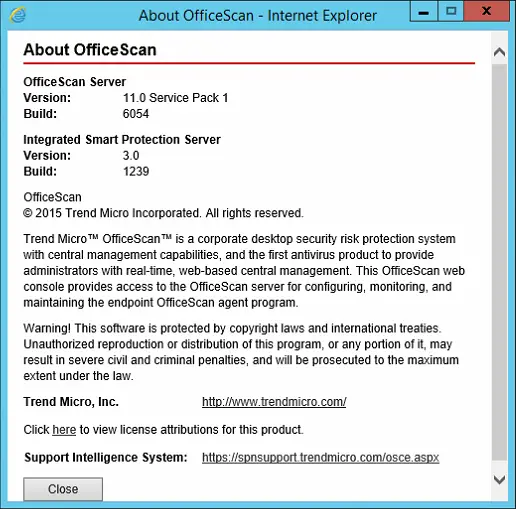 As you can see, here is the information you want:
OfficeScan Server
Version: 11.0 Service Pack 1
Build: 6054
Integrated Smart Protection Server
Version: 3.0
Build: 1239
If you are interested in further information about the Trend Micro OfficeScan , please take a look at the following articles here on Windows FAQ.
– Patch 6242 for OfficeScan 11.0 SP1 reissued
– OfficeScan XG server installation and OfficeScan client 12.0.1222
– OfficeScan XG
– OfficeScan patch 6134 released
– OfficeScan patch 6125 has problems with Windows 10 Clean Installation
– OfficeScan patch 6242 build 11.0.6242 SP1 with anniversary support
– OfficeScan Client 11.0.6178 Service Pack 1 – Anniversary Patch
– Error 0x7FFA528670E3 ANOMALY use of REX.w is meaningless – TrendMicro OfficeScan
– KB3189866 fixes OfficeScan problem with Windows 10