Ransomware viruses usually encrypt the files that are on your local PC or on the network shares within a few minutes. If you then have no backup of the data , you have usually lost, because decrypting the encrypted files is hardly possible.
It cannot be pointed out often enough that a daily backup of the data is essential, because only in this way can you restore the necessary data in the event of a ransomware attack . It often helps if you have activated the shadow copies or previous versions in the Windows file system .
TrendMicro, one of the largest and most well-known antivirus manufacturers and security companies has now published a new tool with which you can decrypt the encrypted data after a ransomware infection . This is the TrendMicro Ransomware Decryptor , which is currently available in 32 and 64 bit versions for free download. You will find the appropriate download link at the end of this article.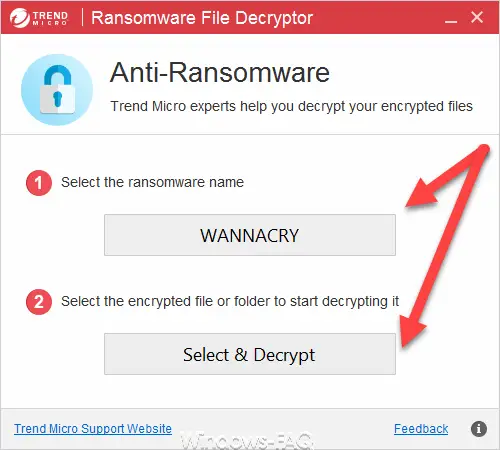 After starting the anti-ransomware tool, you must first select the type or name of the ransomware virus . This decryption tool is currently able to decrypt 23 of the most popular ransomware viruses . Below you can see the corresponding ransomware selection list that offer this tool.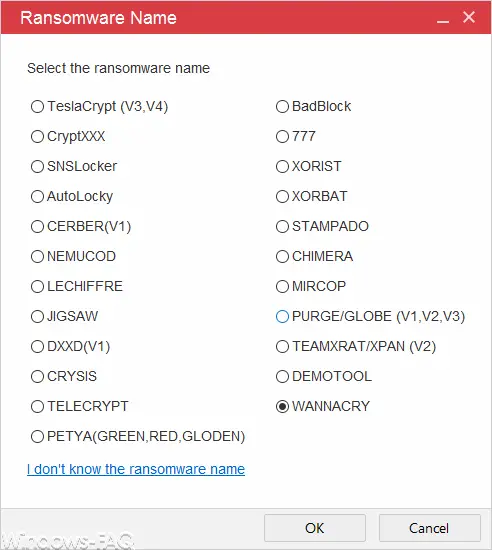 The tool can combat the following ransomware and thus decrypt the files again .
TeslaCrypt (V3 and V4)
CryptXXX
SNSLocker
AutoLocky
CERBER (V1)
NEMUCOD
LECHIFFRE
JIGSAW
DXXD (V1)
CRYSIS
TELECRYPT
PETYA (Green, Red, Gloden)
BadBlock
777
XORIST
XORBAT
STAMPADO
CHIMERA
MIRCOP
PURGE / GLOBE (V1, V2, V3)
TEAMXRAT / XPAN (V2)
DEMOTOOL
WANNYCRY
If you don't know the type of ransomware virus that affected your Windows system, you can let the tool find out. Via the point " I don't know the ransomware name " you can simply give the tool files to be examined and then the virus type that encrypted your files is determined.
TrendMicro is constantly developing this tool and new ramsomware types and viruses are constantly being added.
Here you can download the ransomware decryption tool
– Download Trend Micro Ransomware File Decryptor