We have already described many of the easiest ways to make hard copies or screenshots from your Windows desktop . By the way, you will find a list of the most popular articles on the subject of hard copy, screenshot and screen section at the end of this article.
Microsoft is currently working intensively on improvements to the Windows 10 interface and has also released Windows 10 version 1809 , a new quick start function for creating screen clippings. We have provided you with a video below , in which you can see how quickly and easily you can also create hard copies via the Windows 10 notification center .
All you have to do is open the Windows 10 notification center and then you will see the new tile with the name
Screen clipping
We have shown you this selection here again somewhat larger.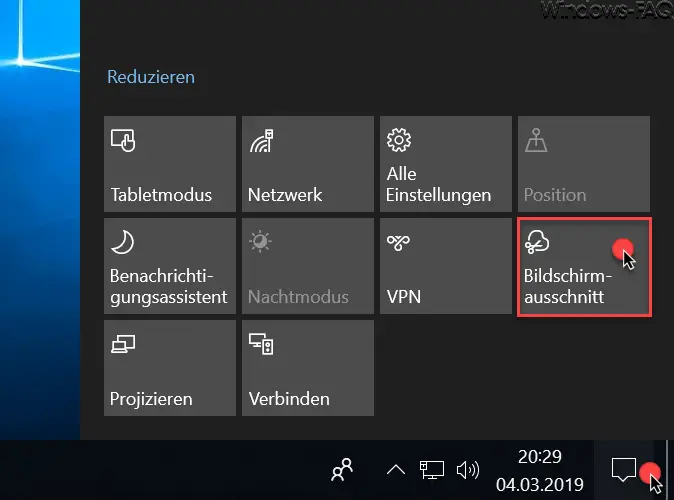 So with 2 mouse clicks you can quickly and easily start the Windows tool "ScreenClip" to create screen sections and mark the desired area. There are 3 different options available to you for how you want to select the screen area.
Rectangular clip
Free form clip
Full screen clip
The selection for this can be found at the top of the screen and is shown as follows.

With the " X " you can close the window without any cutting , if you don't want to make a hard copy.
After you have marked the screen section, a message from the Windows Info Center appears that the desired screen section has now been copied to the Windows clipboard . You can now process this hard copy with any other program.
As already announced, you will find further interesting articles below on the subject of " Screen section, hard copy & screenshots ".
– Prevent the snipping tool from running
– Windows + Shift + S – Windows function for creating hard copies
– Hard copy (screenshots) Tools for Windows
– Screenshots with Windows: How it works
– Generate screenshot (hard copy) in Windows 10 with key combination
– Ingenious screen shot program "Greenshot" for hard copies under Windows 7, 8.1 and Windows 10