BUX Zero , BUX 's flagship mobile investment app , has grown 333% since its launch in Spain just four months ago. This growth means that our country continues to be the fastest growing market for the platform in all of Europe.
The number of users of this platform demonstrates the love of the Spanish for mobile applications to manage their personal finances and an unstoppable trend, such as technology applied to the world of investments. Bux Zero is the latest big break, but after it many other examples can be highlighted, most of them associated with investments in the crypto world.
This other gives us the possibility of investing in virtual currencies as well as other securities of large companies highly valued in the market. It is not a bad option, taking into account everything that experts tell us about diversifying and not depositing all our savings in cryptocurrencies, given the high volatility of these assets.
Who is behind BUX Zero?
With over 700,000 customers, BUX is Europe's fastest growing neobroker and since 2014 has been helping Europeans make trading with their money easy and affordable. BUX Zero, BUX's flagship platform, is making commission-free investing accessible, intuitive and affordable for the first time and allowing investors to invest in a large number of companies or exchange-traded funds (ETFs).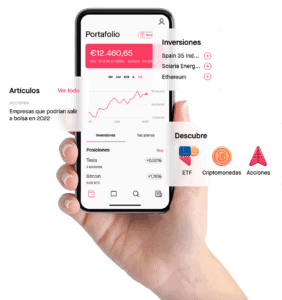 BUX Zero is currently available in the Netherlands, Germany, Austria, France, Belgium, Ireland and Spain. BUX's wide range of products, including BUX Crypto, which allows users to invest in real cryptocurrencies, and BUX X, where users can trade contracts for difference (CFDs), are available in many territories in Europe. BUX is headquartered in Amsterdam, the Netherlands, and the company is supported by some of the leading international venture capital funds.
What can we find in BUX Zero?
The platform offers a comprehensive solution for Spanish investors. In addition to being able to access securities as coveted as Tesla, Amazon, Apple, Alphabet or all the IBEX-35 companies, BUX Zero has recently incorporated the cryptocurrency service and the fractional purchase of shares. Currently, the securities most purchased by BUX Zero clients in Spain are Grifols, ACS, Meta (formerly known as Facebook ), ArcelorMittal, Carrefour, BBVA, Siemens Gamesa, IBM, Tesla and Telefónica.
The pull of BUX Zero is especially relevant in certain autonomous communities. In fact, Andalusia is the region with the most BUX Zero users in all of Europe, even above the province of South Holland, the local BUX market. At the Spanish level, practically 44% of BUX Zero users reside in Andalusia, 16.4% do so in Madrid and 6.8% in Catalonia.
20 cryptos to invest
On the other hand, the cryptocurrency service, with a selection of more than 20 cryptoactives such as Bitcoin, Ethereum and Litecoin, and a commission-free purchase and sale, is currently the most popular asset to invest on the BUX Zero platform in Spain, after technological and consumer values. Spanish users belonging to Generation Z, the largest group in BUX Zero, are investing mainly in cryptocurrencies (Bitcoin), as well as in ETFs and financial securities, as well as in Amazon, Tesla, Meta and Moderna.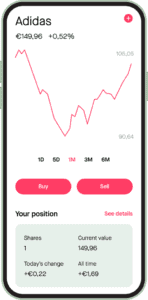 For their part, Spaniards belonging to Generation Y (Millennials) are investing mainly in cryptocurrencies ( Ethereum ), technological securities such as Tesla, as well as other consumer securities, Mosaic and Medtronic. Regarding the reception in our country, the most active communities in terms of the cryptocurrency service in BUX Zero are the Balearic Islands, the Basque Country and the Valencian Community.
"We are very happy to reach the figure of more than 36,000 BUX Zero clients in Spain. The welcome from users has been very good and we will continue to accompany them with quality informative content that contributes to increasing their financial knowledge. BUX Zero is also being the gateway to investment in cryptocurrencies for many Spanish users. Our goal is for them to make medium- and long-term investments with the most information at their fingertips, and benefit from a more accessible and intuitive investment experience," said Yorick Naeff , CEO of BUX.
Through BUX Zero, which can be downloaded to iOS and Android devices, Spanish users can invest in more than 2,000 US and European stocks and ETFs easily and commission-free. In addition, BUX Zero includes shares of all companies listed on the IBEX-35, including Telefónica, Inditex, BBVA, Banco Santander, CaixaBank, Iberdrola, Endesa, Naturgy, ACS, Aena, Ferrovial and Repsol, among many others. .
In addition to the Netherlands, where its headquarters are located, and our country, BUX Zero is also available in Germany, Austria, France, Belgium and Ireland, and is scheduled to expand to new markets during 2022.