Anyone who works with Outlook will know the problem that over time the folder
Deleted Items (or Deleted Items)
fills more and more and eventually has a size or size of several gigabytes. From a technical point of view, this is not a problem for Outlook, however, especially with local installation, the PST file becomes larger and the search through the folders also becomes slower.
In the company environment there is often an overall quota restriction on the entire Outlook mailbox. The size of the " Deleted Items" folder also counts towards the total memory consumption of the Outlook mailbox . Since the user can usually do without the deleted emails, this folder is often deleted manually.
But there is also a useful option in Outlook so that the "Deleted Items" folder is always emptied automatically when Outlook is closed. To activate this delete option in Outlook , you have to do the following.
Automatically empty deleted items
Call the point in Outlook
file
and subsequently
Options
on. In the window that appears there are all available Outlook options. The option we are looking for is in the sub-area
Extended
as you can see in the picture below.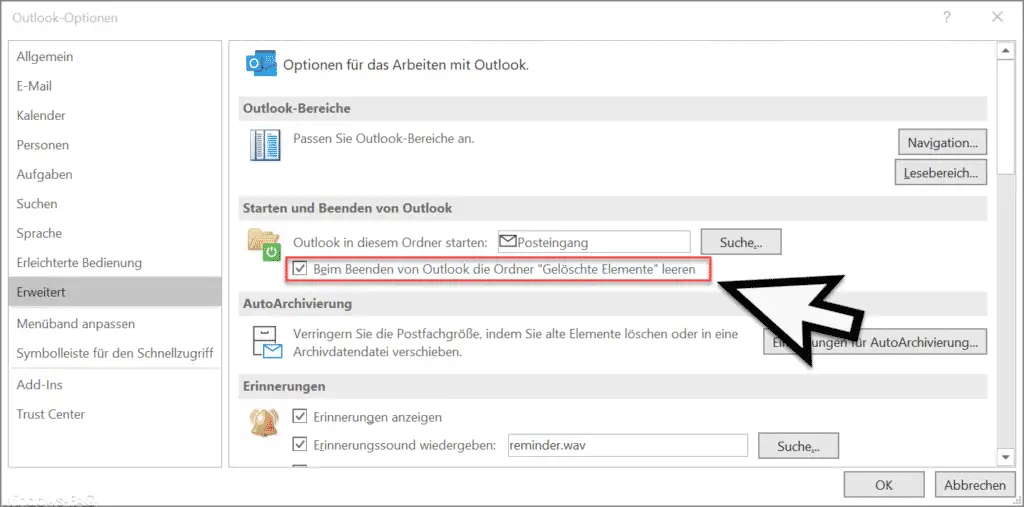 You will find the desired option in the " Starting and exiting Outlook " area.
Empty Outlook Deleted Items folder when exiting Outlook
By default, this option is not active. If you change this option, the changes will also take effect immediately. This means that after activating or selecting and exiting Outlook, your " Deleted Items " folder will be completely emptied.
Please note that this data is lost. The size of the PST file is therefore not less incidentally. If you would like to know how you can shrink your PST file , we recommend the following entry " Shrink or compress Outlook PST file ".
We have published many more Outlook tips and tricks . Below are the most popular Outlook tips.
– Do not accidentally send Outlook e-mails after pressing CTRL + ENTER
– Send contact as business card in Outlook
– Integrated pictures in e-mails are not displayed in Outlook – Set up Outlook vacation
messages and automatic replies
– Outlook logging and creation of log files activate
– close original message automatically when replying in Outlook
– display Outlook, Word, Excel and PowerPoint in dark design (Dark Mode)
– tidy up and create space in Outlook – mailbox cleanup
– conversion of Outlook OST files
– delay email sending in Outlook
– Retrieve sent e-mail in Microsoft Outlook
– A client process has failed – Microsoft Outlook
– Activate spelling checker in Outlook
– Backup the Outlook PST file – Convert
Outlook OST file to a PST file with OST2
– SCANPST – Tool to repair Outlook .PST Files
– Outlook errors 0x800CCC90 and 0x800CCC92
– Outlook error message "The Operation failed. An object cannot be found. "