We had already reported about the display of the dark theme in Windows 10 in our report " Setting the dark theme in Windows 10 " some time ago . With these settings, the Windows apps are displayed in a dark representation (dark theme) .
This dark display of Windows Apps and Windows Explorer is certainly getting used to, but there are a lot of users who want exactly this display and for this reason Microsoft has expanded the Dark Theme with Windows Explorer .
Activate Dark Theme in Windows Explorer
Unfortunately, the dark theme of Windows Explorer cannot be activated directly in the Explorer options, the dark display can only be activated centrally in the Windows settings for all Windows apps. After pressing the key combination

you next call the area
" Personalization " (background, lock screen, colors)
on. In the area
Colours
you will then find the desired setting point for the dark display, as can be seen here below.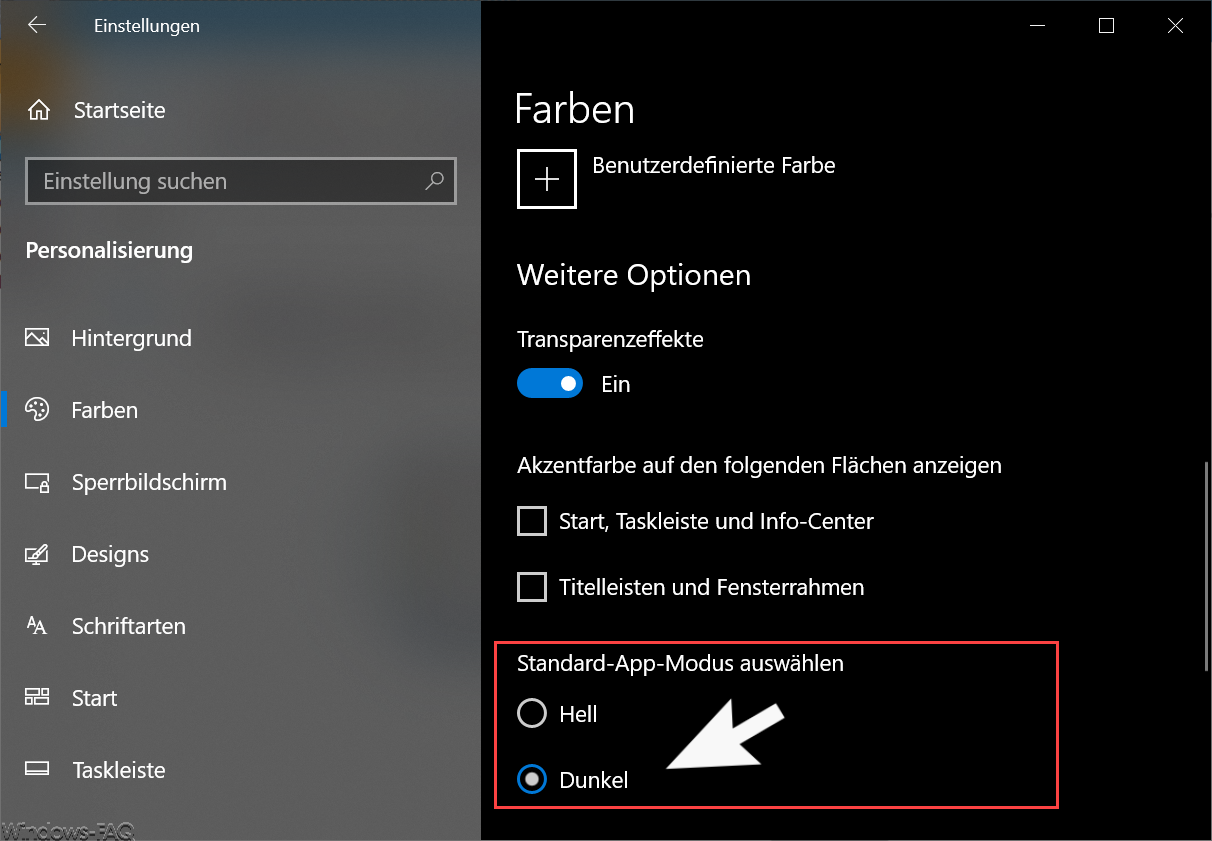 If you select the " Dark " theme as the " Standard app mode " here , the settings app will also be visually changed. No further adjustments are necessary to activate the dark mode.
Now you can use the key combination

start Windows 10 Explorer, which now looks like this.
As already said, it is a matter of taste whether one likes the Windows Explorer in the normal display or in the dark theme display . Microsoft certainly has responded to this change to the many needs of Windows users and the introduction of the Dark themes still continue and other Windows programs in the Dark Theme mode publish. Let's see what the upcoming feature updates for Windows 10 bring.
You can find more tips and tricks for Windows Explorer in these articles:
– Parameters of the Windows Explorer "explorer.exe"
– Hide drive letters in Windows Explorer
– Auto-complete on or off in Windows Explorer
– Download folder opens very slowly in Windows Explorer
– Remove CD / DVD burning function from Windows Explorer
– File size information in the Windows Explorer Show folder tips
– Thumbs.DB – Caching the image thumbnails in Windows Explorer
– Open files and folders in Windows Explorer with just one click
– Show complete folder names in the header of Windows Explorer
– Windows Explorer – Recently used files and frequently used folders
– Show or show file extensions for known file types in Windows Explorer
– Yellow exclamation mark in the drive symbol in Windows 10 Explorer
– Open each Windows folder in a new Windows Explorer window
– Remove OneDrive from Windows 10 Explorer