Again and again it happens that users during the Windows system restore the error code
receive. We have shown you the original error message below, which was shown to us on a German Windows 10 system.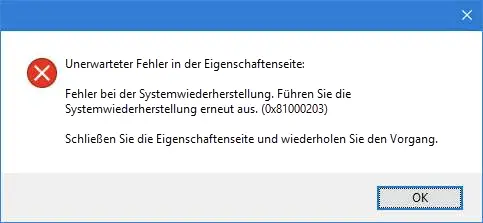 The exact 0x81000203 error message is:
Unexpected property page error:
System restore failed. Run
System Restore again. ( 0x81000203 )
Close the property page and try again.
According to our research, error code 0x81000203 can have  two possible causes.
1.) Virus scanner tries 0x81000203
Many users have reported that certain installed virus scanners are preventing Windows system recovery with error 0x81000203 . Users of Kaspersky products in particular seem to be frequently affected by this error code. As a solution, you should deactivate the virus scanner or completely uninstall it before restoring the system.
2.) Shadow copy service VSS not started
The second option is to check whether the volume shadow copy service VSS has started correctly. The VSS service manages and implements volume shadow copies that are used for backup and other purposes. When VSS service is stopped, shadow copies will not be available for backups and backups or restores may fail. If this service is deactivated, the services that depend exclusively on this service can no longer be started.
To check this, it is best to call the " services.msc " program and check whether the VSS service has started , as you can see here in the image below.

If the " Volume Shadow Copy " not "on Status Service Runs " are, so you can activate the service by clicking on the right mouse button and "Start". You can then run Windows System Restore again and check whether error code 0x81000203 continues to occur.
We have already reported several times on the subject of "restoration". Here is a small selection from the previously published article.
– 0x80070091 error in the Windows 10 System Restore
– Windows 10 create a system restore point with PowerShell
– create restore point in Windows 10
– Data Recovery in Raid defect
– Working in PowerShell with restore points
– Delete system restore points and free up space