Today we want to report on error code 0x8007052e that we received a few days ago when installing Windows 10 updates . We have listed the original image of error code 0x8007052e below.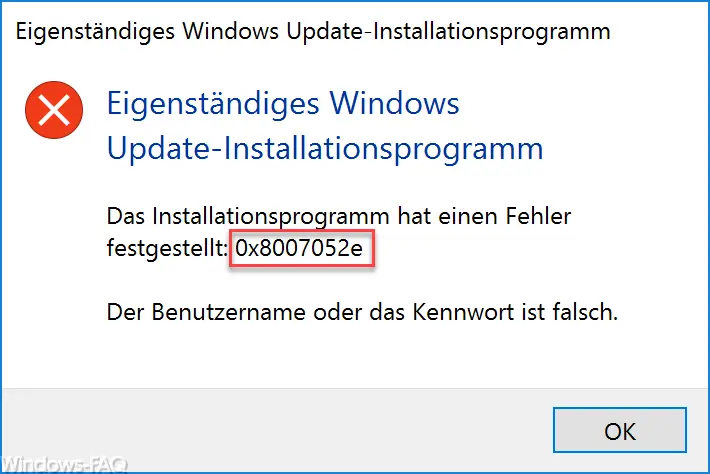 The exact error message is:
The installer encountered an error: 0x8007052e
The username or password is incorrect.
It occurred when we wanted to install the new cumulative update  KB4022715 for Windows 10 Version 1607 Anniversary on a PC. But we can anticipate it, error code  0x8007052e has nothing to do with this Windows 10 update, it can also occur with any other Windows update.
Unfortunately, the information about this error on the Internet is very limited, so we went on troubleshooting ourselves. The only thing that could possibly have caused error 0x8007052e is the fact that we wanted to install the update via UNC path on a Windows 10 PC that was not in the domain. We were only connected with administrative rights to the server from which we started the update via the UNC path.
But why this should cause the error " The username or the password is wrong " is not clear to us.
Solution to problem 0x8007052e
We then copied the Windows 10 update locally to the C partition and started the update manually from there. And lo and behold, this time the error message 0x8007052e no longer appeared and the update could be installed properly.
We can not explain the phenomenon exactly , but in this case the local update installation seems to be the solution.
Further Windows Update error codes and their elimination can also be found in the following entries.
– Windows Update error code 0x80080008
– 0x80070490 Windows Update error code
– 0x8000ffff Windows error code
– 0x8e5e03fa Windows 10 Update error code
– Windows Update error code 0x80240fff
– 0xc1900201 error code for Windows 10 Anniversary Update
– 0x80070003 error code for Windows Update
– Windows Update error code 0x80240437
– 0x80240031 Windows Update error
– 0x80248007 error code for Windows Update
– Windows Update error code 0x80245006
– 0x80072ee7 error code for Anniversary Download
– 0xc004f014 error code for Windows 10 Upgrade Home -> Pro