The Windows Update error code 0x80070020 appears to be occurring again more frequently, as some readers tell us. That is why we want to deal with Error 0x80070020 again in more detail today . According to Microsoft, it is an error called
and this indicates that the Windows system used apparently ends the Windows update process because currently important system files are accessible . Due to the blocked file access, the Windows Update function is then not possible. Below we have shown you the original error message from update error 0x80070020 .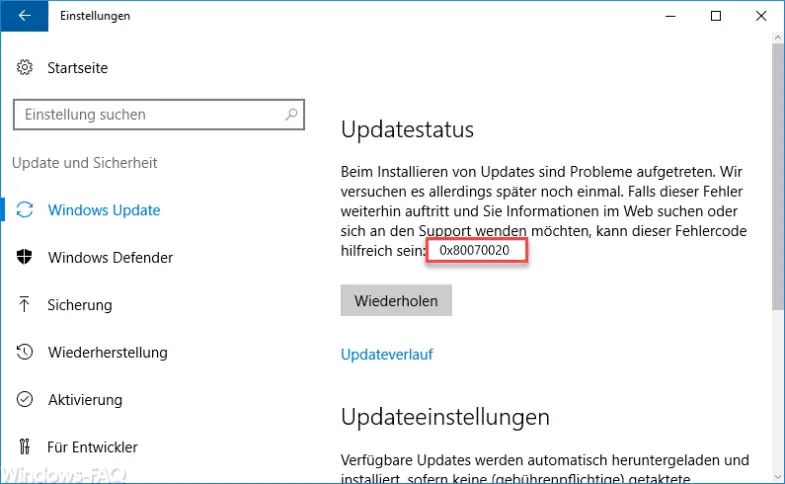 The following solutions are available for update error 0x80070020 .
Restart the Windows system
That is almost a matter of course, but we would like to mention it briefly. If files are accessible, a restart is recommended before reinstalling the Windows updates in order to close any locked files.
Disable Windows Defender
Apparently, several users who also had problems with error 0x80070020 temporarily deactivated Windows Defender and were then able to install the updates without any problems. Try it out if necessary and please tell us about your experience.
Windows firewall, tuning programs etc.
Unfortunately, the Windows Firewall or other programs can also be responsible for the error. With " wf.msc " you can briefly switch off the Windows firewall and check the updates again. Other programs, such as anti-virus programs , anti – malware scanners , tuning programs , etc. can also be the cause of the blocked system files. To exclude these programs as culprits, you only have the option of stopping their activity for a short time or uninstalling the programs if necessary.
Microsoft help
Microsoft has published various solutions for Windows Update problems in a post . In this document, the Windows update errors in particular
0x80073712 , 0x800705B4 , 0x80004005 , 0x8024402F , 0x80070002 , 0x80070643 , 0x80070003 , 0x8024200B , 0x80070422 , 0x80070020
treated. You can find all the information you need in the Microsoft Knowledgebase article called " Fix Windows Update issues ".
Further solutions and information about other Windows update problems can be found in these articles.
– Windows Update error code 0x80073701
– 0x80010108 error code for Windows 10 update
– 0x8024a105 Windows Update error code
– 0x80070422 error code for Windows Update
– 0x80240442 error code Windows Update
– error 0x800704c7 for Windows Update
– 0x8e5e03fa Windows 10 update error code
– Windows Update error code 0x80240437
– 0x8000ffff Windows error code
– Windows Update error code 0x80240fff
– 0xc1900201 error code for Windows 10 Anniversary Update
– 0x80248007 error code for Windows Update
– Windows Update error code 0x80245006