The error code 0x80010108 occurs very often when installing or downloading the Windows 10 updates . Below we have shown you an original error message of the update error code 0x80010108 of a German Windows 10 installation.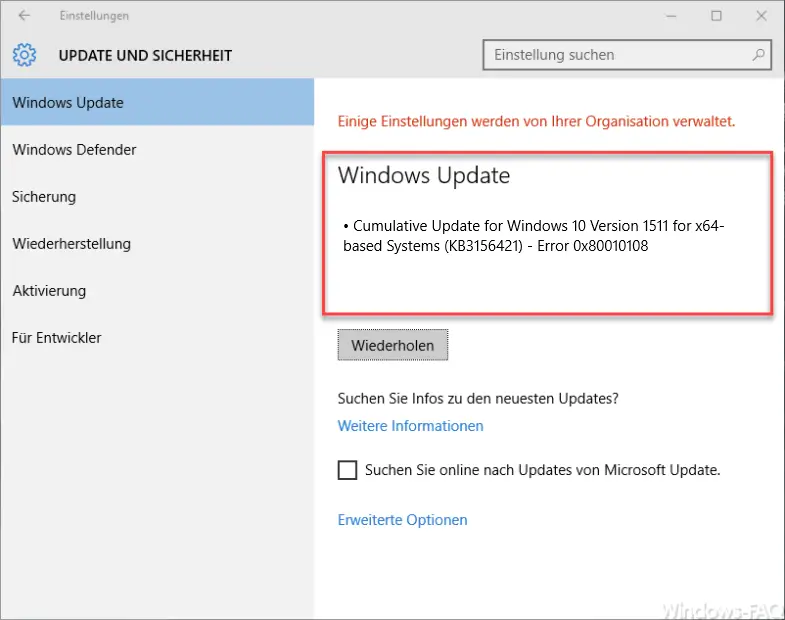 However, we would like to mention that this error code does not only appear on Windows 10. Older Windows systems are also affected by this update. Unfortunately, the error code 0x80010108 only indicates that it is an HRESULT error code with the designation " RPC_E_DISCONNECTED ". Unfortunately, there is not too much information about this error on the Internet, so that little trial and error is required to really circumvent the error.
0x80010108 after Windows restart
The first thing you should try is generally to restart your Windows system and check again if the error occurs again. It is often also useful to repeat the installation of the updates at a later time in order to rule out problems with the Windows Update servers.
DNS problems
Some forum posts read that incorrect DNS entries are also the cause of error 0x80010108 . You can find out exactly how you can delete the DNS cache in our article " Delete or empty the DNS cache ", which we published here on our blog some time ago.
Windows component store failed
The Windows component store is very often the cause of Windows Update problems and also leads to error code 0x80010108 . In the entry " Repair Windows component store with DISM and PowerShell commands " it is described in detail how you can check the Windows component store and repair it if necessary.
System-related software
Unfortunately, it always turns out that system-related software such as antivirus scanners , antimalware software , firewall programs or VPN software from third-party providers are the cause of such update problems. In this case, you should think about either deactivating them briefly or uninstalling them if absolutely necessary. Just to make sure that this software is not the trigger of the  0x80010108 update error .
You can also find many other valuable tips for eliminating Windows Update problems in these articles.
– 0x8024a105 Windows Update error code
– 0x80070422 error code for Windows Update
– 0x80240442 error code Windows Update
– error 0x800704c7 for Windows Update
– 0x8e5e03fa Windows 10 Update error code
– Windows Update error code 0x80240437
– 0x80240031 Windows Update error
– 0x8007052E error code for Windows Update
– Windows Update error code 0x8008000
– 0x8000ffff Windows error code
– Windows Update error code 0x80240fff
– 0xc1900201 error code for Windows 10 Anniversary Update
– 0x80248007 error code for Windows Update
– Windows Update error code 0x80245006
– 0x80072ee7 error code for Anniversary Download
– 0xc004f014 error code for Windows 10 Upgrade Home -> Pro